Quade Cooper straight back to practice tee after day of shanks at Villa Park
Greg Growden
September 27, 2015
Australia 65-3 (Australia only)
Who will be the Wallabies No 10 for their two crucial pool matches against England and Wales? The answer remains hazy.
A patchy performance by Bernard Foley against Fiji in Cardiff last weekend, saved somewhat by reliable goal-kicking, gave Quade Cooper the chance to make the pivotal position his if he took control of the Uruguay encounter at Villa Park. It was "convincing the selectors" time.
Cooper's general play was considerable, passing with poise, but there were too many ifs and buts about the day for him to feel confident that he will be back in the A team to play England at Twickenham on Saturday.
While Cooper continues to have sin-binning problems, his biggest bogey on the day was his goal kicking. Eleven conversions were attempted. Only five were successful. The wind swirling around Villa Park was a bit fluky, but not enough to be used as an excuse. Goal kicking is so crucial at World Cups, and it is dangerous to go into any major encounter with someone who possesses the kicking yips.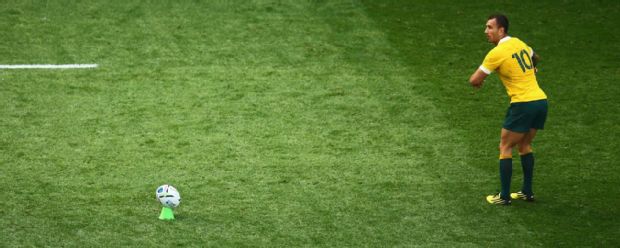 © World Rugby via Getty Images/2015 World Rugby
Australia thrash Uruguay
%]
The wayward kicking is clearly bothering Cooper. Twenty minutes after the teams had left the field, Cooper re-emerged from the dressing rooms and took shots from various parts of the ground. Sitting behind the posts were 20 Australian supporters in green and gold, who cheered uproariously every time he got one over in an attempt to revive his spirits.
"C'mon Quade" reverberated around the ground as his radar started to function again. He left the field far happier than at full-time.
Cooper knows he has to overcome these kicking gremlins, and that will only come through hard work. Wallabies coach Michael Cheika also made a point of reassuring Cooper after the game not to get too bothered with it. It will come. It will come.
Cheika is a true believer in Cooper's extravagant, dangerous and so often unpredictable talents, and that is in the playmaker's favour; not surprisingly for someone brought up in the Randwick Galloping Greens Free Thinking School of Rugby, Cheika likes those who think way outside the conservative rugby square.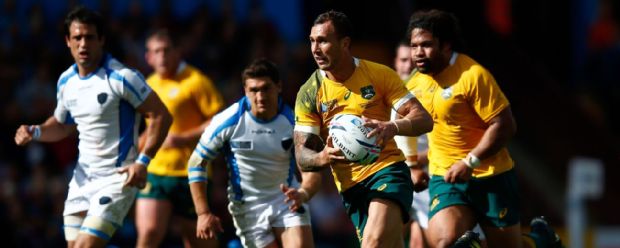 © Getty Images/2015 Getty Images
Cooper is certainly a free thinker - as was shown against Uruguay. He knows how to enliven the attack, and several of his precise passes succeeded in creating the required space for tries to be created.
Cheika is likely to stick with Foley against England, but Cooper is hovering. Maybe a reserves spot again beckons.
The most impressive of the back-up players was flanker Sean McMahon, who deserved another Man of the Match award after also being the standout against the USA in Chicago.
© Getty Images/2015 Getty Images
Not far behind McMahon was flanker Ben McCalman, who certainly took up the slack after No.8 Wycliff Palu was forced from the field with injury at the break. McCalman is not flashy, but he is a good, honest back-rower whose work rate can never be disputed.
As encouraging was the manner by which the Wallabies' pack three times repelled Uruguayan driving mauls within sight of their own line. That Australia did it so comfortably, holding the maul up to win possession, gave a clue that the whole squad has been working hard in that area. Repelling driving mauls can so easily become a team's most important foil.
It certainly worked for Wales in the final minutes against England at Twickenham on Saturday night, when the home team twice tried driving mauls from lineouts to win the game but failed as the Welsh forward formation and drive was too well prepared.
Cheika explained after the game that forward belligerence has been a prime focus at recent Australian training sessions.
"Obviously there were serious questions about us which emanated from last year's end-of-season tour here," Cheika said. "So we knew it was an area we needed to work really hard on. We had to improve our consistency there, because the one thing about driving mauls, scrums, lineouts and all that tight stuff is that they are the most humbling parts of the game.
"You can really do well one time, one scrum or one driving maul, and then get turned on your head next time. You can get your pants pulled down."
The Wallabies now head to London with their pants firmly attached to their waists.
© ESPN Sports Media Ltd.