What next for rugby's Tier Two nations?
Martyn Thomas
October 13, 2015
Rugby World Shield would support 'minnows'
The curtain may barely have come down on the pool stage of the 2015 Rugby World Cup but for some the tournament's true heroes have already departed. Whatever happens between now and the World Cup final on Oct. 31 cannot be allowed to distract from the value added to this jamboree by those so-called Tier Two nations.
Japan, their unflappable captain Michael Leitch and classy fullback Ayumu Goromaru won hearts around the globe as they secured a slice of unwanted history: becoming the first team ever to win three World Cup group games and not reach the quarterfinals. The Brave Blossoms also proved there was an appetite for the game in the next host nation as a reported 25 million viewers tuned in to watch their high-octane defeat of a shell-shocked Samoa.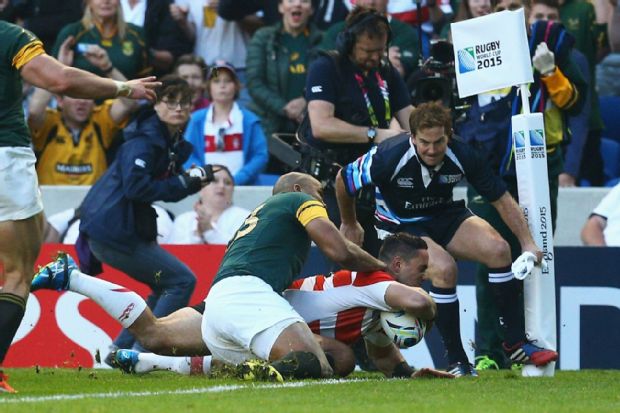 Karne Hesketh scores the match-winning try for Japan against South Africa
© Charlie Crowhurst/Getty Images
But it has not just been Eddie Jones' men who have impressed over the last three weeks. Most, if not all, of the participating teams have played their part in delighting packed stadiums up and down the country -- from Georgia's shock win over Tonga, to Canada's near miss against Italy right up until that man Goromaru kicked the last points of pool play, viewers have been enthralled.
The apparent improvement in performance from the Tier Two nations (those countries who do not compete in either the Rugby Championship or Six Nations) has been borne out by the stats, too. The average points conceded by those teams against their more illustrious opponents continues to fall -- to 44.4 from 54.8 in 2003 -- while for the second World Cup in a row there were no 100-point cricket scores.
Jones: Great potential in Japanese rugby, if mindsets change
%]
"We've seen through the tournament, compared to the other tournaments I've played in, the teams that are so-called 'easy' games aren't easy anymore," said Richie McCaw, who lifted the trophy for New Zealand at the last World Cup. "The whole standard of rugby you've seen in this tournament is lifted."
McCaw's may seem a strange statement when you think that his All Blacks side have cantered into the last eight averaging over 40 points per game. But considering that average was 69 in the pool stages across the previous three tournaments, then maybe that is progress, however gradual.
Indeed, there was a moment to savour for the lowest ranked side in the World Cup against New Zealand as Johan Deysel crossed the whitewash to send 51,820 fans delirious at London's Olympic Stadium. Losing 58-14 to the defending champions was certainly a more enjoyable experience to the 142-0 defeat they suffered against then-World Cup holders and hosts Australia in 2003.
"It's been a very progressive World Cup for us," said Namibia coach Phil Davies after his side ended a tournament in which they secured their first ever point, a losing bonus against Georgia. "It was a celebration at the end -- we have achieved milestones. The UK public are educated and they've appreciated the spirit and skill in the way we've tried to play, the courage and the flair."
So far, so positive. But as many of those who have helped make this World Cup such a success -- with organisers suggesting on Monday that it is on course to be the most attended in history -- settle back into life at their clubs, or for many their day jobs, what needs to be done to ensure the gap continues to narrow?
Having spoken to a host of players over the last few weeks, the word on everyone's lips appears to be 'exposure'. The general theory is that Tier Two teams will only catch up if they are given the opportunity to play against Tier One opposition regularly, as Argentina and Italy have, with varying degrees of success.
As Georgia assistant coach Michael Bradley put it: "The more times we play Tier One nations, the more comfortable us Tier Two nations will get. Part of the process must now be developing that side of the rugby calendar for other countries, not just the Tier One nations."
Georgia played just two matches against Top 10 opposition between the end of the last World Cup and the start of this one. By contrast Tonga had a packed Tier One schedule in the same period, playing a still paltry five -- against France, Italy, Wales and Scotland twice -- all of which came in November 2014, with the bigger countries invariably using the match to rest players during a busy autumn Test schedule.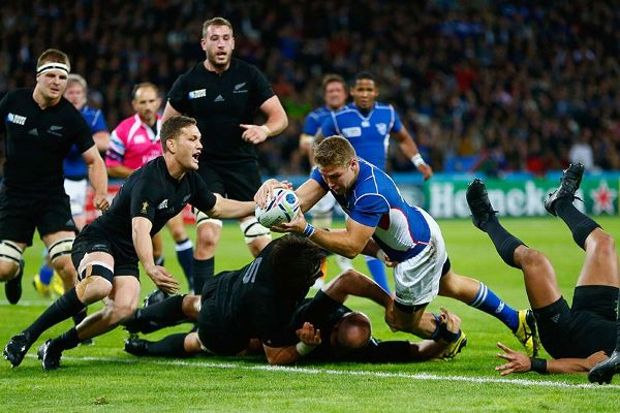 © Phil Walter/Getty Images
"Look at our build-up over four years, the only time we get to play a Tier One nation is in the November window. Apart from that, it's Tier Two nations among themselves and then when we get into the World Cup it's a different league," said Tonga skipper Nili Latu. "Look at the progress and the way Argentina's playing now, they're playing the top teams."
Argentina's acceptance into the Rugby Championship fold, and their continued development since taking up the invitation, marks them out as the blueprint for progression to Tier One status. It seems unlikely that any of the Pacific Nations will make the same step up any time soon, but relegation and promotion in the Six Nations is something that has been discussed.
Jones: Japan no longer a 'joke team'
%]
Indeed -- and it may seem hard to believe now -- in 2001 the Rugby Football Union (RFU) advocated such a route onto the top table for the likes of Georgia and Romania in order to grow the game. "At the moment it [the Six Nations] is focused at the top end on who will win the championship," then-RFU management board chairman Brian Baister said at the time. "Imagine what sort of competition it would be if it were also focused on the bottom end in terms of promotion and relegation."
It is a debate that has reared its head repeatedly in the time since the RFU abandoned their stance, with Georgia winning five straight European Nations Cup titles and Italy continuing to struggle at the foot of the Six Nations table, picking up 10 of the 16 wooden spoons on offer since they joined. In truth, Scotland have not fared much better recently, either, finishing in the bottom two in eight of the last nine tournaments.
Argentina back row Juan Martin Fernandez Lobbe has been an integral part of the Pumas' push up rugby's international hierarchy, and he thinks it's time for the northern hemisphere competition to open its doors. "There are a lot of teams that are good rugby teams, they have good rugby players and the more the merrier," he said.
"We need to get more competition for everyone because we can see what the Rugby Championship did for us and the same will go for Georgia if they get into the Six Nations. As soon as you start playing more often against the bigger teams, you start getting used to them, you build more confidence and you can play the way we're playing when we keep the ball."
Whether a route will ever open up for Georgia to ascend to Europe's top table remains debatable with five of the Six Nations unions -- Ireland entertained Georgia last autumn -- opposed to the idea. Concerns over the suitability of Tbilisi to host matches in the same style as Rome, Paris, London, Cardiff, Edinburgh and Dublin is said to be behind the reluctance, but the team's Kiwi coach insists they would receive a warm welcome.
Georgia's players celebrate after
© BERTRAND LANGLOIS/AFP/Getty Images
"There's certainly lots of good reasons why a Tier One nation should come to Georgia," Haig said. "They would help grow the game globally if they did. They'd be hosted like never before, I'm pretty sure -- they would certainly enjoy the food and wine and hospitality. We'd encourage any Tier One nation to talk to us about it."
In the 12 years since winning the World Cup, current hosts England have played just seven Tests against the current Tier Two nations -- one of those being against a Pacific Islands combined XV -- and it is not difficult to see why the Tier One nations would like to keep their shop a closed one. In short, the elite unions can make more money if they just play among themselves.
The perception is that fans and sponsors alike are turned off by seeing one-sided games, and while the RFU can all but guarantee packed houses at Twickenham, the same cannot be said for Australia, Scotland and Wales. And with international windows so tight, ensuring a northern hemisphere side plays three of the four Sanzar nations in November means there is no room left spare for a Tier Two fixture.
Howells: Romania deserve more tier one clashes
%]
That is obviously counter-productive to World Rugby's strategic goals to increase "global participation" and the "competitiveness of international rugby". Indeed, New Zealand have proven that games against the lesser lights of the top 20 can be money spinners too.
In 2013, the All Blacks made a NZ$850,000 (£373,813) profit from their one-off Test against Japan in Tokyo, while their historic visit to Chicago to face the USA helped them to turn a NZ$1.2 million (£527,639) deficit into a "modest" profit. New Zealand are a special case, however, given that their popularity transcends rugby, but Japan and the U.S. are in an enviable position as they offer unions the lure of untapped markets.
Not every country that hosts the All Blacks fares so well, though, with New Zealand's visit to Samoa costing the Pacific Island country £383,300, according to its Prime Minister, Tuilaepa Malielegaoi. However, the success or failure of that historic Test -- the first time the All Blacks had ever played in Apia -- should not necessarily be viewed in purely financial terms.
But, as former Manu Samoa forward and ESPN columnist Dan Leo wrote on Twitter following Tuilaepa's revelation: 
Regardless of whether the big boys agree to play more rugby against those on the rung below them, though, there is another sizeable obstacle in the way of those nations -- Sevens. Since the shorter format of the sport received Olympic status, governments around the world have pumped money into Sevens in order to give their country the best possible chance of winning a medal.
World Rugby have also made it a priority over their last funding cycle, investing £6m into competitions in 2015 alone -- the budget for XVs, including the World Cup, was £3.9m. All of this money has allowed Canada and the U.S. to implement full-time, professional programmes and has been met with some success.
However, this new wealth has created a conflict with the 15-a-side game as the Sevens programmes take precedence and national coaches struggle to get time with some of their better, domestic players. This was a particular issue for Canada, not a wealthy union, who arrived at the World Cup with a fly-half -- Nathan Hirayama -- who had played just 10 times in the No.10 shirt since the last tournament in New Zealand.
Tolkin: Capable Eagles need consistency
%]
"Definitely the Sevens game is moving and differing a lot more from the XVs game," said Canada team manager Gareth Rees. "He [Hirayama] has benefited from having three months with the squad. He's really benefited from that, and that's a tough question coming up [if he plays more XVs]."
USA fans
© Mike Hewitt/Getty Images
USA coach Mike Tolkin agrees with Rees but says there are benefits to the players training full time too. "Ideally we'd like everyone to be playing full-time XVs for the experience," he said. "But those guys from the Sevens come to us in excellent shape and they are doing wonders for the game at home in terms of profile of the sport. It's a two-sided coin."
For their part, World Rugby do put money into what they call High Performance Tier Two nations, with £4.6m invested in the 10 programmes in 2015. By the end of the 2013-16 investment cycle these unions will have received a total of £50m of direct and indirect funding.
However, the gap remains with the elite unions pocketing £85m. This means that 52 percent of the governing body's total investment into the 15-a-side game in the last four years will have gone to the top 10 countries, while the other 107 affiliated bodies divvy up the rest. Although, admittedly, the Tier Two nations take the lion's share of that 48 percent.
And World Rugby insists that narrowing the financial gap remains a priority. In an email to ESPN, a spokesman said: "World Rugby's mission is to grow the game globally and we are completely committed to ensuring competitive, compelling competition at international level, including rugby's greatest stage, Rugby World Cup.
"We have worked tirelessly with our unions to implement the platform for our Tier Two unions to achieve to their full potential with a dedicated programme of high performance investment in coaching and competition structures beginning eight years ago."
Indeed, the statement highlights the fact that Fiji, Tonga, Samoa and Japan have all spent time in the top 10 of the world rankings in the last four years. "We remain committed to delivering greater opportunities against Tier One nations.
"The gap between T1 and T2 has narrowed significantly and with World Rugby investment and leadership we expect that gap to reduce further in years to come."
One area where that funding has made a huge difference has been in preparation for this World Cup. The governing body distributed a £5m pot to Tier Two teams to be used solely on planning for this year's tournament, while negotiations with Premiership Rugby and the Ligue National de Rugby ensured player release outside of the 35-day window. This allowed teams to come together almost three months before the tournament and aided their improved performance once there.
It also gave those sides a glimpse of what they are missing. "What we've found in the last two or three series is we've had enough money to come together the week of a Test match and throughout the Test match but we haven't had enough money to do what we've done this summer," Rees said. "Which is to actually analyse ourselves, build a team, build a team environment, take time to work on skills and build game plans rather than just getting ready for a Test match."
© Laurence Griffiths/Getty Images
Canada's standout performer, DTH van der Merwe, concurred: "We start playing good rugby because we've been together since July 7. We played eight games pre-World Cup, so that's the only time we've had to play a lot of games together and build as a team and get combinations with players, who are just starting to learn each other."
It is unlikely that any of the Tier Two nations will get that sort of preparation time again until the next World Cup in 2019, and therein lies the problem. World Rugby cannot grow the game on their own, they need all the stakeholders -- including Tier One nations -- to buy into the plan or it will not succeed.
Could they do more? With this tournament predicted to swell World Rugby reserves to £140m, possibly, and perhaps rebranding the collective term for Tier Two nations would be a start. Tonga captain Latu intimated that it cast those teams as second-class citizens. "It feels like there are Tier One nations and then Tier Two nations," he said. "I believe it's one to 20."
But at least these nations have started the conversation with their performances over the last three weeks. They have wowed crowds and panicked traditional powerhouses of the game. If more isn't done to ensure that the playing field is levelled over the next two, three or four years then it wouldn't just be a great shame, it would be a missed opportunity.
"We'll certainly look at different ways to get as much competition as possible at a higher level," Georgia coach Haig says, seizing the initiative. "Whether that's us touring there or whether that's getting teams to come to Tbilisi and Georgia, I'm not sure. But if we don't take this opportunity with both hands, then we're mugs really."
© ESPN Sports Media Ltd.