Rugby World Cup semifinals in numbers -- 21 weird and wonderful facts
Huw Richards
October 22, 2015
Players to watch: Australian breakdown stars
While much of the world has been talking about Back to the Future, the World Cup continues instead to go back to 1999. Following on from last week's quartet of North-South quarterfinal clashes we move on to another case of déjà vu from last century's final tournament as the semifinals are staged as a Twickenham weekend double-header.
We can but hope that this weekend is even half as good as 1999, which saw a weekend of matches reckoned by many to be the best they have seen. As well as the innate sense of occasion there was a heavyweight clash (Australia v South Africa) with a strong air of Ali v Frazier, followed by one of the great shocks (NZ v France) of modern rugby history.
In retrospect it was also the end of an era. Semifinals often produced the most memorable action of the early World Cups -- whether we think of Serge Blanco's glorious winning try in 1987, David Campese and Co's demolition of the All Blacks in 1991 or Jonah Lomu running amok against England -- but this century's semis have been rather less enthralling.
But maybe going back to 1999's pattern will see a revival of that tradition. And whatever happens we can expect some intriguing revision and addition to the numbers around World Cup semifinals.
New Zealand favourites for heavyweight clash
%]
0 - Tries scored by four teams who still won their semifinals -- England in 1991, Australia in 1999, England in 2003 and France in 2011. The last two beat teams who did score tries, while the middle two went on to win the final.
1 - Semifinal has gone to extra-time, the Australia vs. South Africa clash at Twickenham in 1999. South African outside-half Jannie de Beer landed a remarkable injury-time penalty -- wide out, more than 40 metres away and in wet, windy conditions -- to take the match into extra time, where Stephen Larkham's skiddy long-range drop-goal, one of only two he kicked in 102 matches for Australia, finally finished the Boks.
2 - Players have been sent off in semifinals, both Welshmen. Neath lock Huw Richards had the singular experience of having to be revived before being told of his dismissal in the 1987 semifinal against New Zealand, after being laid low by a retaliatory punch from Wayne Shelford. At least that had no impact on the outcome of a match already lost, but in 2011 skipper Sam Warburton's dismissal for a tip-tackle in the first half of the semifinal against France imposed a handicap which proved decisive in a 9-8 defeat.
© David Rogers/Getty Images
3 - Semifinals is the most played in by any one player -- shared by Mike Catt and Jason Leonard of England, New Zealand's Sean Fitzpatrick, South Africa's Os du Randt and five Frenchmen -- Christophe Dominici, Fabien Galthie, Imanol Harionordoquy, Fabien Pelous and Raphael Ibanez. Richie McCaw and Keven Mealamu should join that list this weekend.
Can Argentina upset Australia?
%]
3 - Teams have lost semifinals on their own soil. Australia went down 30-24 to France in an epic clash in Sydney in the first ever World Cup, Scotland lost 9-6 to England -- who were hosts of record but had to go via Paris and Edinburgh to the final after losing their pool match to the All Blacks -- at Murrayfield in 1991 and France went down 14-9 to the English at the Stade de France in 2007.
4 - Teams have won semifinals after trailing at half-time -- England and France twice apiece. While the most famous was undoubtedly France's overthrow of the All Blacks, who not only led 17-10 at the break but scored first after the interval, at Twickenham in 1999 the other three are -- remarkably enough -- the same trio (see above under 3) that won on opposing territory. None of this year's semifinalists have achieved the feat -- they are a combined 0-5 in semifinals they trailed at the interval.
4 - Tries is the most scored by a losing team in a semifinal, England in their 45-29 defeat by New Zealand at Cape Town in 1995. Rory Underwood and Will Carling crossed twice apiece, but most were scored when the result was no longer in doubt, not least because Lomu had matched England's output by himself.
6 - Tries scored in semifinals by Lomu, giving him a comfortable lead for the all-time record over a distinctly blue-chip list of names -- Carling, Campese, John Kirwan, Underwood, Shelford and Bryan Habana -- who have scored twice. His four against England in 1995 was followed by two more against France, before the French deluge, at Twickenham in 1999.
Players to watch: Wingers key to final place
%]
6 - Semifinals have been settled by a single-score margin or less, four of them involving France. They were winners of the narrowest of the lot, beating Wales 9-8 in Auckland in 2011, and of the earliest, the 30-24 win over Australia in Sydney in 1987, sealed by Blanco's spectacular try, but on the receiving end 19-15 to South Africa amid the Durban storm in 1995 and 14-9 to England in Paris in 2007. England's 9-6 win at Murrayfield in 1991 makes them 2-0 in this category, which is completed by Australia's 27-21 extra-time defeat of South Africa in 1999.
7 - Semifinals will have been played by New Zealand after this weekend -- giving the All Blacks the outright lead in this category ahead of France (6) and the Australians who play their sixth this weekend. South Africa's fourth semifinal levels them with England, while Argentina tie Wales on two to leave Scotland by themselves as semifinalists just once, in 1991.
15 - Points was the total in that single Scottish appearance, making it also the lowest-scoring semifinal of the lot. England won 9-6 at Murrayfield on the strength of two penalties by Jon Webb and a Rob Andrew drop to two penalties by Gavin Hastings, who missed a third which he would usually have landed if required to incorporate a somersault into his set-up routine.
19 - Years and 185 days was George North's age when he played for Wales against France in the 2011 semifinal in Auckland, making him the youngest ever player to appear in the final four of the tournament. The only previous teenager was another Welshman, the aptly-named David Young, who was 19 years and 323 days and winning only his second cap when he played against the All Blacks in 1987.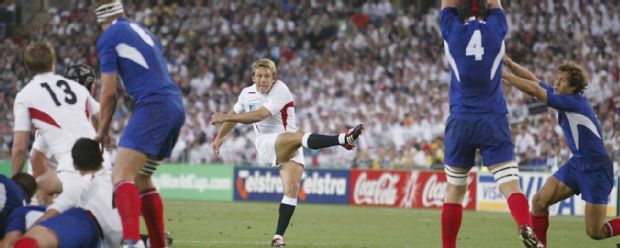 © Mark Nolan/Getty Images
33 - Points scored by Jonny Wilkinson in semifinals, the most by any single player, spread across two matches, against France in 2003 and 2007. He also holds the record for drop-goals, with four. There were three drops as he scored all 24 of England's points at Sydney in 2003, then two plus a penalty in the 14-9 victory in Paris four years later. In all he scored 93 of England's 108 points in the playoff stages of the 2003 and 2007 World Cups.
Pienaar: All-Blacks vs Springboks will be 'bone-crunching'
%]
36 - Years and 255 days, the age of Brad Thorn, that remarkably unruffled traveller between the two rugby codes, when he became the oldest ever semifinalist in New Zealand's clash against Australia in 2011. Previous holders of this record included the Argentinian prop Omar Hasan and a player later convicted of murder, France's Marc Cecillon. England uniquely fielded two 36-year olds, Mike Catt and Dorian West, in the defeat of France in 2007.
49 - Points scored by New Zealand in easily the most one-sided semifinal of all, their immolation of Wales at Brisbane in 1987. Under modern scoring values it would have been 57 and it holds, seven tournaments on, the record for highest score, biggest margin of victory (43 points) and most tries (eight). It made the All Blacks demolition of France in this year's quarterfinals look like a serious contest.
New Zealand vs. South Africa
Bryan Habana
© GLYN KIRK/AFP/Getty Images
7 - Tries scored by Bryan Habana against the All Blacks, an all-time Springbok record after overtaking Joost van der Westhuizen's previous record of six. It has taken him 22 matches, well down on his usual scoring rate, of which the Boks have won eight and lost 14. On the All Black side Richie McCaw's six tries in 25 matches make him their leading current scorer against the Boks, and his 19 wins in the fixture is also a record.
17 - Years since the Springboks beat the All Blacks after trailing at half-time, coming back from 17-5 down in Durban to win 24-23. They've achieved it seven times in the history of the rivalry, but three of these matches were in the historic 4-0 sweep of the 1949 All Blacks. The All Blacks have come from behind to win five times since 1998.
59.44 - The All Blacks' winning percentage from 90 matches against the Springboks spread over 94 years. That's a clear lead, a 3 to 2 edge, but still by far their closest rivalry -- compare 70.45 against Australia and 81.25 against England. It's a lead almost entirely accumulated this century -- their win-loss against the Boks as 2000 dawned was 26-25, and they'd only recently overtaken them after 60 years in arrears. And in World Cup matches, the Boks lead 2-1.
Australia vs. Argentina
© Russell Cheyne/Allsport
2 - Occasions on which these teams have met previously in the World Cup. Australia won both, 32-19 at Llanelli in 1991 and 24-8 in the opening game of the 2003 tournament at Sydney. But the Pumas weren't then the force they have since become.
18 - World Cup matches played by Australia on British and Irish soil, and also the number that they have won. It took six matches apiece to win the 1991 and 1999 tournaments, there was a 32-20 pool stage win over Wales at the Millennium Stadium in 2007 and they're 5-0 so far this tournament.
86 - Points scored by Hugo Porta, named last week by Australian World Cup winner Michael Lynagh as the best outside-half he ever played against, the most by an Argentinian. Porta's teams broke even in seven matches against the Wallabies with three wins and a draw. Lynagh holds the Australian record for the fixture, with 114 points.
© ESPN Sports Media Ltd.