Dan Carter all class to lead All Blacks to Rugby World Cup Final
Sam Bruce
October 25, 2015
South Africa 18-20 New Zealand (Australia only)
Please, Dan, don't go just yet.
That will likely be one of the overriding sentiments for All Blacks fans back in New Zealand on Sunday after veteran fly-half Dan Carter turned in yet another virtuoso performance in the No.10 jersey on Saturday night.
Full-back Ben Smith may have taken out Man-Of-The-Match honours for a fine display under the high ball and in attack, but it was Carter who helped pilot the All Blacks away from a frustrating first half and onto a 20-18 victory over South Africa in the first Rugby World Cup semi-final.
That the veteran now has the chance to bow out of Test rugby with an elusive Webb Ellis Crown - he was injured before the final in New Zealand four years ago - is incredibly fitting, but such was his performance on Saturday night there is little doubt he could continue playing at the highest level for a few years yet.
"I loved the drop kick, I thought that was class," replacement back and Carter's fly-half understudy Beauden Barrett said. "He showed a lot of poise and time with that.
© David Rogers/Getty Images
"I'm learning off him every day still, he's very valuable to this team obviously. And his goal-kicking, you know? He doesn't miss many so I think that's why he so outstanding."
New Zealand book themselves a place in the RWC final
%]
Aside from a 45th-minute drop kick in which Carter turned scrappy lineout ball into an invaluable three points - back-rower Jerome Kaino was in the sin-bin at the time - the veteran playmaker also kicked three from four, made seven runs and the same number of tackles.
It may not have been his finest ever performance in the black jersey but one that showed just how valuable he has been to this side over the past 13 years, and one that will have fans of French club Racing Metro licking their lips in anticipation.
"Is he in the best form of his life? Oh look, I don't know; he's in the best form we need to him to be right now," assistant coach Ian Foster told the post-match press gathering after being hand-balled the question from head coach Steve Hansen.
"Over a career like he's had it's hard to sort of say he's in best form right now but for someone who's gone through what he's done the last two or three years and to climb back in and control this team the way he's controlled, I think it's outstanding the effort he's put in.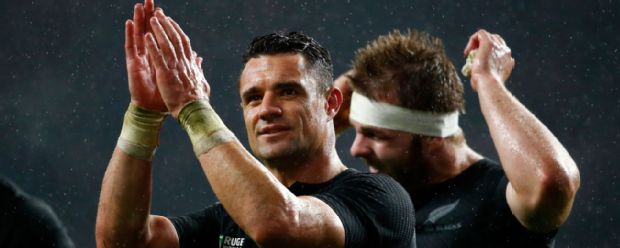 © Laurence Griffiths/Getty Images
"He's reaping the rewards of some of that really hard work and when he's had to come back from injuries and to see him out there now playing freely and running around with a smile on his face - it's outstanding."
The All Blacks could easily have lost their way at Twickenham following a first half where they dominated both possession and territory but found themselves trailing 12-7 where it matters - on the scoreboard.
Barrett said it was just a matter of the All Blacks remaining patient - a process Carter led with some smart tactical kicking and general cool head.
"Look we didn't need to do anything special, we just needed to do the basics well; go-forward, carry, clean; just build pressure; more of the same of what we were doing in the first half," he said.
"We weren't getting the rewards and you can get frustrated. You just have to keep that faith; just keep going forward and eventually they'll tire and they'll break down. So yeah if we can remain calm upstairs and not get frustrated I think that's important."
© ESPN Sports Media Ltd.