Australia have special players in line-up - starting with David Pocock and Michael Hooper
Greg Growden
October 25, 2015
Argentina 15-29 Australia (Australia only)
The most effective of back-row tag-team combinations, who go under the stage name of the 'Pooper Twins', is back in force and one step closer towards taking the Rugby World Cup off the All Blacks.
There were countless reasons why the Wallabies held out Argentina to instigate a trans-Tasman tournament finale next weekend, including an extraordinary defensive effort that matched the heroics of their 13-man performance against Wales in the final match of Pool A as well as exceptional passes from Bernard Foley and Matt Giteau that led to important tries.
As crucial was the impact of the Wallabies back-row, with David Pocock and Michael Hooper working brilliantly together - the pair between them succeeding in nullifying numerous dangerous Pumas counter-charges. They successfully scoured either side of the field, herding in stray Argentina bullocks who tried to run away. They scavenged so effectively. They instigated numerous turnovers. They brought down countless Argentinean attackers. They completed some unbelievable tackles. And always nearby was the most effective of sidekicks in No.6 Scott Fardy, who is often forgotten but equally instrumental in Australia being so effective at the breakdown.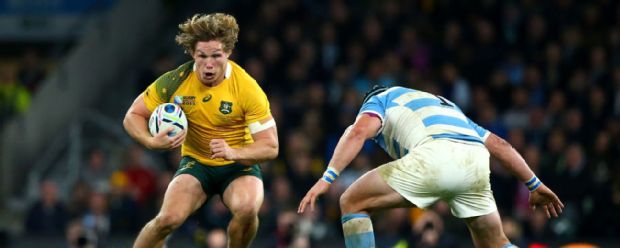 © Stu Forster/Getty Images
Australia's David Pocock celebrates victory
© MARTIN BUREAU/AFP/Getty Images
The Pocock-Hooper-Fardy combination must now rank among Australia's most effective back-row trios of recent times. They are certainly respected, including by the All Blacks, who don't have to be reminded of what they did against them in Sydney last August. They were at the core of a rare Australian Bledisloe Cup triumph. And that's why Wallabies coach Michael Cheika delayed his team announcement until the last moment, to give Pocock as much time as possible to prove his fitness to play in the heart and soul of this Australian rugby operation.
Pocock a few days ago was said to have little chance of playing in this semifinal. Due to a troublesome calf injury, he hadn't been involved in any of the main training sessions and had done only a bit of work on an exercise bike. The assumption was that he would have to be rested for another week. But Cheika waited until the last moment to name the team with Pocock back at No.8. And there Pocock was, running out at the start of the game as if there were absolutely nothing wrong with him.
Ditto the 80th minute. Pocock was still going strong, showing no signs that he had been under any sort of doubt for this game. Hooper clearly relished Pocock by his side, as they clearly spur each on, attempting to out-do each other with their fearless feats. It was a wise move when Cheika decided to play Pocock "out of position" at No.8, allowing him to take full advantage of both players' enormous skills; it was a gross waste having one of them on the bench waiting to replace the other, especially as they are close to Australia's two most important players.
Dominant Australia book final place
%]
Cheika expects a lot from his back-row, even from the likes of Hooper and Pocock, but he is most appreciative of their skills.
"I'm pretty hard on them at training, because I was a back-rower once myself," Cheika said after the game. "That can be difficult for them, but what I admire about them is that they work so hard for their team."
Cheika's campaign also to convince the Australian Rugby Union of the importance of easing their ban on overseas-based players has also proved a master-stroke. Matt Giteau, Kane Douglas and Drew Mitchell, all lured back, are again pivotal players in the Wallabies starting XV.
Drew Mitchell
© Paul Gilham/Getty Images
Giteau was so important in putting the Wallabies on the right footing in this semifinal, showing the required poise at inside centre and a precise kicking game, and producing a marvelous looping pass to put Adam Ashley Cooper away for his second try. The only pass to match came from Foley, whom Ashley-Cooper must thank for his first try. It was a floater from heaven.
It wasn't surprising that the Wallabies play lost some momentum when Giteau was forced off in the 46th minute with a groin complaint. This prompted an Argentinean revival, with numerous spectacular moments of backline play that were thwarted only by the Wallabies' commitment to ultra-tough and ultra-effective defence.
Douglas has been a completely different man since leaving Ireland, with Cheika constantly getting the best out of a lock whose work-rate has been impossible to fault all tournament.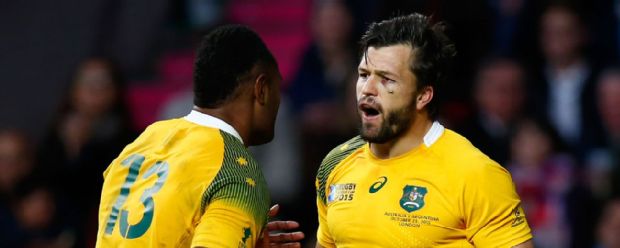 Adam Ashley-Cooper
© Mike Hewitt/Getty Images
Mitchell is also back to his best, with his daring, weaving 60-metre run leading to Ashley-Cooper eventually finishing with a hat-trick of tries.
So now Australia must prepare for the All Blacks. New Zealand are justifiably favourites, but Australia are one of the few teams to boast a recent victory.
"But" as Cheika put it "we have to do something special to be competitive against them."
Australia at least have several special players in their line-up - starting with Pocock and Hooper. They will be competitive.
© ESPN Sports Media Ltd.