Seven key decisions that re-built the Wallabies into Rugby World Cup finalists
Sam Bruce
October 27, 2015
Will All Blacks or Wallabies win rugby's biggest prize?
At this stage of a Rugby World Cup, there is very little that hasn't been said.
Add to that the fact the combatants for the final on Saturday, Australia and New Zealand, know each other better than anyone and it's no surprise the Wallabies' recovery session on Monday was dryer than a Broken Hill summer.
Wallabies coach Michael Cheika wasn't going to be caught out poking holes in the All Blacks, nor singing the praises of his players following a seventh straight Test victory. Nothing to give the All Blacks anything into which they could sink their teeth.
But at the very tail end of the press conference, Cheika was asked if he'd entertained the prospect of a World Cup final at this time last year - when he had just signed on as Ewen McKenzie's replacement.
His response was interesting.
Michael Cheika holds a team talk
© Mike Hewitt/Getty Images
"I didn't think about it to be honest, I really didn't," he told a packed press gathering. "Like at this time last year I'd only just gotten the job; I didn't know who was in the pool for Australia at the World Cup.
Cheika wants Wallabies to play to identity
%]
"So because I was never thinking I was going to be like near it; I thought I would be on holidays somewhere. And even when we went on the tour that wouldn't have been in my mind; I don't feel I had the credential or I deserved to be thinking about that.
"I just needed to be thinking about those guys that we're on the tour then and what we needed to do to make the team improve because I saw guys with a lot of good character in that team; they were struggling a bit; we were struggling a bit at the time.
"But internally you could feel a good feeling and I wanted to try and get the best out of those guys for that tour and what we could lead on to."
That belief would have been shared by the majority of Wallabies fans in Australia. In fact, even those looking through the most gold-tinted glasses would have had trouble making a case for the Wallabies to be where they find themselves this week.
So just how has Cheika done it?
A few key decisions stand out.
Bringing Beale in from the cold
It was a bold call at the time, but Cheika's decision to bring Kurtley Beale back in the fold midway through last year's spring tour showed the coach's era would begin with a clean slate. Beale's involvement in the ugly text-messaging saga that had dragged the usually squeaky-clean Wallabies brand through the mud could have ended the utility back's career. But Cheika stuck by him, just as he had in bringing him home to the Waratahs from the Rebels after a tumultuous two-year period in Melbourne. The decision showed the Wallabies boss was prepared to put trust in his players; he only wanted the same in return. There hasn't been an incident since.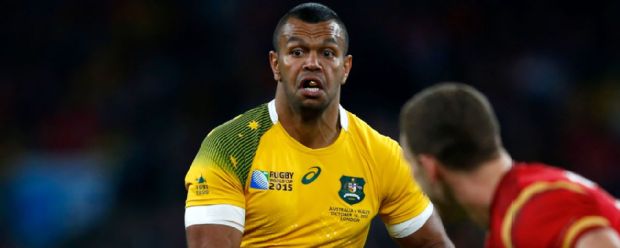 Kurtley Beale
© Chris Lee - World Rugby/World Rugby via Getty Images
Cheika unfazed by All Blacks' depth
%]
Put quality people in the right positions
Much has been made of the appointment of Pumas great Mario Ledesma as Wallabies scrum coach, but the introduction of assistants Nathan Grey and Stephen Larkham has been just as vital. Grey was known as a brutal defender in his 35-Test career, and his love for the contact has clearly rubbed off on the current bunch of Wallabies - particularly Kane Douglas and Scott Fardy. In five matches at the World Cup, the Wallabies have conceded just five tries. Would the Wallabies have survived seven minutes on their own line against Wales if Grey hadn't been on board? Unlikely. Would they have scrambled with the determination that saw them repel the Pumas on Sunday? Doubtful. And then, of course, there's Larkham - one of the most revered figures in the history of Australian rugby. Did Bernard Foley's sublime cut-out pass to Adam Ashley-Cooper look familiar? That's because a bloke by the name of Larkham was throwing them around when Australian rugby was in the middle of its "golden era". Bernie's come back, and the skills of the Aussies have improved out of sight.
Michael Cheika and Mario Ledesma
© Laurence Griffiths/Getty Images
Belt each other tonight, and be friends in the morning
Moore right leader for young Wallabies
%]
Building a squad capable of getting out of Pool A, let alone reaching the final, was always going to be a tough challenge considering Cheika had only last year's end-of-season tour and then little more than two months to prepare a team for the World Cup. His answer? Get an extended squad on paper and get them together for "mini camps" the morning after they'd belted the snot out of each other during a Super Rugby derby. The camps meant the players who were chosen later in the Rugby Championship squad weren't coming in cold, and the structures and style in which Cheika wanted the Wallabies to play weren't completely foreign.
Stephen Moore named skipper
It would have been so easy to stick with incumbent Michael Hooper as captain, a player Cheika knew so well from his time at the Waratahs. But Stephen Moore deserved another chance having gone down with a knee injury just a couple of minutes into his first Test as captain in 2014. Cheika first consulted Moore's original vice-captains, Hooper and Ashley-Cooper, and then anointed Moore as the man to lead the Wallabies. It has proved to be the right decision.
Drew Mitchell
© David Rogers/Getty Images
The Giteau/Mitchell clause and returned Citizen Kane
Bill Pulver may be the chief executive of Australian Rugby Union but Michael Cheika calls the shots. And the coach was always going to get his way when he first made enquiries about altering the eligibility protocols to make Giteau available. The 60-Test or seven years' service requirement meant that Giteau, Drew Mitchell and George Smith alone were eligible; with the Toulon duo eventually securing their place in Cheika's World Cup squad. Both men have proved invaluable, with Giteau's experience and left boot helping the Wallabies out of some tight spots and Mitchell's pace and footwork a fine trade for the injured Rob Horne's solid defence - albeit after a stint in the "USA Fat Camp". And then there's Douglas, who was brought home from Leinster by Queensland Reds for next season and thus made instantly eligible for the Wallabies once he returned this year. His defence in the quarterfinals and semifinals was outstanding, the lock topping the Australian count against Scotland and then finishing second behind only Scott Fardy against Argentina.
David Pocock
© Reuters/Russell Cheyne
The Pooper gamble
Cheika: We believe in ourselves
%]
They said it couldn't work. They said the lineout would fall to pieces and the lack of a ball-carrying No.8 would leave the Wallabies light on up front. But you're standing still unless you're evolving. Judging by what Michael Hooper and David Pocock have done in this tournament, thoughts of playing two fetchers alongside each other shouldn't produce quizzical looks from others. It was always going to be a risky, though, and Cheika deserves credit for breaking the mould. The decision to bench Pocock for the Auckland Bledisloe? Not so much. Just ask Greg Growden. The outstanding form of blindside Scott Fardy has only reinforced Cheika's twin-fetcher gamble while bringing an end to the Pooper nickname. The Wallabies are now rocking a back-row "Faroocock".
World Cup phone calls
Selection in a World Cup squad should be one of the proudest moments in a rugby player's career. It should feel special, and Cheika managed to achieve that back in August when he had members of Australia's 1999 World Cup-winning squad inform the current players they'd earned a ticket to England. It was all any of the players wanted to talk about when the 31-man squad was unveiled to the public at the Qantas Hangar in Sydney Airport. It also signified the start of a special few months. All it needs now is the ending.
© ESPN Sports Media Ltd.