New Zealand's famous five will leave lasting legacy after Rugby World Cup
John Mitchell
October 29, 2015
World Cup final: The All Blacks desperately want two in a row
%]
At the conclusion of the 2015 Rugby World Cup, four All Black greats - Richie McCaw, Keven Mealamu, Dan Carter and Ma'a Nonu - are expected to follow Tony Woodcock's lead and retire from international rugby.
I handed all five players their Test debuts when I was coaching the All Blacks. McCaw debuted against Ireland in Dublin in November 2001, Mealamu and Woodcock both against Wales in Cardiff in November 2002, Carter against Wales in Hamilton in June 2003, and Nonu against England in Wellington in June 2003. That famous five have all represented New Zealand for over a decade and have amassed a combined tally of 609 Test caps, with a world record 147 Test caps held by McCaw.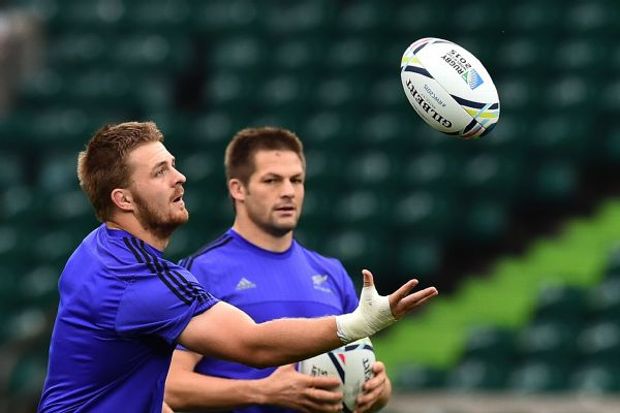 © GABRIEL BOUYS/AFP/Getty Images
I decided to select McCaw as a young pup after watching him excel in a match for Canterbury against Otago. He famously knocked on with his first touch in Test rugby, but went on to win the man of the match award. McCaw suffered disappointment at both the 2003 and 2007 World Cups, but was able to bounce back up from the canvas and channel that experience and knowledge to help the All Blacks win the 2011 tournament. And on Saturday at Twickenham in front of 82,000 spectators, McCaw could become the first ever captain to lift the Webb Ellis Cup for a second consecutive time.
Mealamu made the All Blacks squad after enjoying a superb National Rugby Championship final against Waikato. However, the then 23-year-old had to wait three weeks on tour before earning his Test debut. I remember telling him afterwards that he could go on to become a great All Black, which he has since achieved. Woodcock also made his Test bow in that match. The man, who hails from Helensville, possessed an impressive skill-set and his body profile was perfectly suited to prop.
Meanwhile, Carter had class written all over him from the outset. It was just a matter of managing him in his first year of Test rugby. He was athletic and lean, boasted a superb skill-set and his ability to read the game was outstanding. The highest points-scorer in Test rugby - 1579 - was fortunate to have Carlos Spencer and Aaron Mauger around in 2003 to glean from their experience. He learned a lot from them, and it was no surprise that DC went on to become the premier fly-half in world rugby.
In Nonu's case, the centurion faced a few challenges before earning his first Test cap - he was moved around a lot in the backline. However, the All Blacks environment seemed to bring the best out of him. He morphed into a player and leader whom his teammates looked up to, especially other Pacific Islanders in the side. Moreover, to offer an example of the quality of the individual outside the four white lines, when Hurricanes assistant coach John Plumtree had a back operation earlier this year, Nonu picked him up early in the morning after the team had just returned from Brisbane, and transported him from a public hospital to a private one. Nonu is a class act on and off the field.
© Phil Walter/Getty Images
The aforementioned five players are great blokes and are very humble. They've played a significant leadership role. They have been with the team for such a long period of time and are therefore acutely aware of what behaviour is acceptable and unacceptable. They, along with Steve Hansen, have returned to the tradition of visiting the opposition changing room post-match and sharing a beer.
Players are inspired by the All Blacks culture and it permeates their soul. Once you play for the All Blacks, you are always an All Black. I was fortunate to enjoy a short time as an All Black player and then a longer period as a coach. I wish I could go back and experience it again or make another contribution to All Blacks rugby. It's such a wonderful environment. I think of the All Blacks' set-up as a well-sized tree, whose roots keep growing deeper - allowing the tree to grow bigger and stronger.
© Phil Walter/Getty Images
The All Blacks' new triangular haka formation is not indicative of their leadership structure, which appears to be non-hierarchical. Their leadership is very much a shared process, involving players and management, which allows everyone to feel as though they are contributing to the cause. Players develop in that kind of environment regardless of how long their Test careers span because it gives them so much belief. You feel like you can't fail, but when you do fail you know why you have failed.
There is no doubt that the All Blacks will have a leadership succession plan in place following the departures of McCaw, Mealamu, Woodcock, Carter and Nonu, with the likes of Conrad Smith, Kieran Read, Brodie Retallick, Sam Cane and Dane Coles set to take over those roles. They would have learned so much from the five players in question, and will ensure that the All Blacks continue to reach the benchmark that this team has set, while at the same time attempting to raise it themselves. Crucially, the All Blacks' leadership role is passed on through behaviours rather than words.
© ESPN Sports Media Ltd.