Greg Growden peers into his crystal ball one last time to predict the Rugby World Cup final
Greg Growden
October 30, 2015
World Cup final: The All Blacks desperately want two in a row
The mouldy old Wizard suit gets one last airing for the year, as Greg Growden attempts to continue his six out of six streak of successfully picking all final match victors at this World Cup.
The crucial factors:
Will the All Blacks prove Springbok coach Heyneke Meyer right by showing in the final that they are the greatest team of all time? And have the Wallabies the resources to stop them?
Becoming the first country to successfully defend their World Cup title will go a long way towards confirming that this is the most superior of rugby teams- even if the All Blacks have been somewhat erratic during this tournament.
But with this being Richie McCaw and Daniel Carter's last game in the All Black jersey, expect something special.
Nonetheless Australia do have the ability to destabilise them. Australia's greatest asset is their defence, and the All Blacks, in spite of their dangerous attacking prowess, will find it very difficult to score tries in the final. As well, the Wallabies boast an industrious, quality backrow in David Pocock, Scott Fardy and Michael Hooper that can disrupt New Zealand. It happened once before this year- in Sydney, and it could easily happen again.
There are those who are muttering that the Wallabies may have been involved in an elaborate smoke and mirrors exercise in the second Bledisloe Cup match in Auckland as part of the master plan to win the World Cup. By selecting an inferior team, including opting against the successful Pocock/Hooper/Fardy backrow combination after it had been so effective in Sydney and instead putting Pocock on the bench, didn't give the All Blacks a second chance to work out the best way to counter them.
Ruck 'n' Maul: The final we all want to see
%]
To those pushing that theory, I say poppycock. Tell that to the six Australian players who were brought into the starting XV for Auckland. Were they just fodder? If so, coach Michael Cheika, who surely can't be throwing out white lies at endless World Cup media conferences when he says that he only operates 'game by game', has a lot of explaining to do to that group of players.
I stand by my original comment that the Auckland Test selections were bizarre and unnecessary because it ruined a great chance to at last regain the Bledisloe Cup. Yes, the World Cup is more important- and maybe, just maybe does involve an elaborate three month long hoodwinking campaign to compare with the planning of World War II's Great Escape tunneling system- but by winning in Auckland the Wallabies would have walked into this tournament even more confident, rather than remembering that their last encounter involved a 28-point five tries to one All Black trouncing.
The All Blacks, who suddenly looked vulnerable in Sydney, instead head into this final with a psychological edge, and that's crucial. One edge Australia does have is that they have turned Twickenham into their fortress. This will be their fifth Twickenham match in a row, and the old cabbage patch has been transformed into their favoured home away from home.
Man of the match: Dan Carter (New Zealand).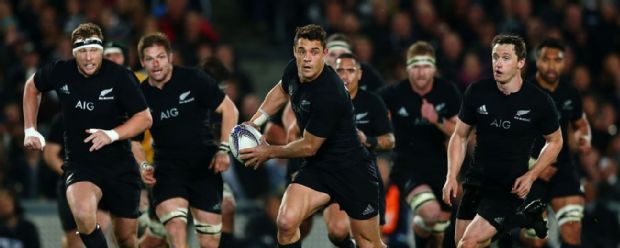 © Anthony Au-Yeung/Getty Images
Carter, undoubtedly New Zealand's greatest No. 10, so often excels against Australia. He is the master of probing and exposing the Wallabies frailties. He immediately knows if an Australian player is struggling, and will put him under even more pressure by directing high balls, grubber kicks, or general play his way.
Legends predict nailbiting World Cup final
%]
As shown by that exceptional field goal against South Africa last weekend, Carter is never troubled by the moment. Also expect him to kick the important shots at goal. Tactical midfield kicking will be crucial in the final, and while Matt Giteau has provided Australia with some much needed authority in that area, Carter is still the best in determining where exactly on the field the game will be played. And as he missed the last World Cup, this final is so important. Carter will be at his peak.
The impact of the referee:
The organisers got it right by choosing Nigel Owens for the final- as he is clearly the best referee going around. While Australia's record when Owens is in charge, isn't exceptional, with just seven wins from 14, that should not unduly bother them.
Referee Nigel Owens calls for a try
© Photo by David Rogers - RFU/The RFU Collection via Getty Images
Owens, who has a good relationship with the players, is generally a fair referee, who allows the game to flow. But he will be strict at the breakdown, as he realises that this will be a key area in determining who ends up winning the World Cup. It would take a referee of enormous courage to sinbin McCaw in his final Test, but Owens, a firm officiator, will have no qualms. Similarly any Australian who does anything stupid during the game won't find Owens a forgiving character. This is a concern as Australia's discipline during the tournament has sometimes been poor. They have constantly been penalised, allowing opponents back into the game.
Potential of an upset:
A definite possibility. But it will require Australia playing the perfect, mistake-free game- something which they are not exactly renowned for.
Adam Ashley-Cooper celebrates his try
© Photo by Mark Kolbe/Getty Images
New Zealand are justified favourites, but are genuinely nervous about this final, because Australia are not intimidated by them. Pocock, Fardy and Hooper are genuine threats- in particular Pocock, and the All Blacks will be doing whatever they can to minimise his impact. Expect the All Blacks to run a lot of ball towards Pocock in a bid to isolate him, getting him caught up in the tackle, before they probe another part of the field. Australia, boosted by the return of prop Scott Sio, will also need their scrum to stand up following set-piece jitters caused problems against Scotland and Argentina, while their fullback Israel Folau will need to suddenly find form. It is a fair effort for Australia to go so far when their marquee player- Folau- has been way off his best. But if they are going to be the third Australian World Cup winning contingent, Folau really needs to be back on song.
Tip: All Blacks by 8.
© Greg Growden