Flexible deal, Test hope, not enough to keep Liam Gill from Toulon
Sam Bruce
February 17, 2016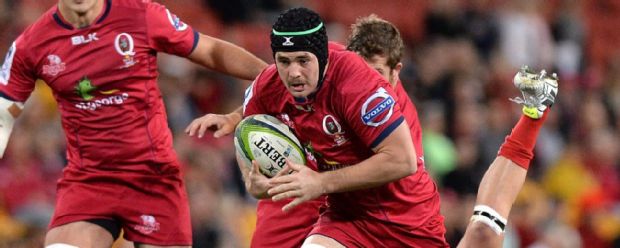 © Bradley Kanaris/Getty Images
As the Australian Rugby Union waits anxiously for a final decision from David Pocock, Wallabies coach Michael Cheika has revealed the lengths he went to in trying to retain Liam Gill.
The outstanding Queensland Reds No.7 will join Toulon at the end of the Super Rugby season, having signed a two-year deal with the French giants.
Gill will join fellow Australians Matt Giteau, Drew Mitchell and Quade Cooper at Toulon; but unlike the established Wallabies trio, his overseas departure has come at a much earlier age. The 15-Test flanker will only be 24 by the time he heads to France and with Pocock tipped to at least take up a sabbatical option in 2017, Gill would have provided crucial back-row cover for the Wallabies next season or possibly even earlier.
"Yeah, yeah, I gave him a very clear indication of where I saw him in the picture and that I was very keen for him to be playing in Australian colours this year," Wallabies boss Cheika said Wednesday.
"I think he was unlucky to miss out on the team last year because of his form, he played so well during Super Rugby season."
The ARU attempted to protect its playing stocks last season with the introduction of new contracting guidelines that were more in keeping with the game's modern-day global marketplace.
Those guidelines saw veterans Giteau and Mitchell suddenly become available for, and play starring roles at, Rugby World Cup 2019, while the younger Ben McCalman and Bernard Foley exercised the flexible contract option and took up post-tournaments stints in Japan's lucrative Top League.
And it was flexible option Cheika hoped would help convince Gill to re-sign, only to see him opt for a "different rugby environment" - one he's sure to get inside the whacky world of Toulon owner Mourad Boudjellal.
"We were working hard to give him an option so that he could play in Japan through the flexible contracting thing and still be available for Australia because we really wanted him to be there," Cheika said.
"And (we) had a lot of talks with him directly, both in face to face and over the phone, but in the end he chose to go over to Europe.
"But that's going to have no implication on him for this season, you know what I mean? If he performs he'll be in (the Wallabies)."
Gill was the standout performer in an otherwise disastrous 2015 Reds season, the 23-year-old openside picking up the Stan Pilecki Medal as the franchise's best player.
While sorry to see Gill lost to Queensland rugby, Reds coach Richard Graham said the announcement hadn't affected his squad ahead of Super Rugby even though it came just a fortnight before their season opener against NSW Waratahs.
"Three years ago, four years ago, I say it would (have set us back), but I think it's so much par for the course that it's ridiculous," Graham told ESPN.
"If you have a look across the competition you see (guys leaving) Steve Mafi at the Western Force, you see Luke Jones at the Melbourne Rebels, you see young (Mitch) Inman who's just done an injury break over there (in France).
"I just think it's part and parcel of the game these days, you know opportunities across the globe are enormous."
© ESPN Sports Media Ltd.