News - AU Rugby
Michael Cheika's Test regrets help drive Wallabies philosophy
Greg Growden
May 4, 2016
Regrets... even successful coach Michael Cheika has a few. One of the most pressing is that he never wore the Wallabies Test jersey.
That's why at such functions as Wednesday's Wallaby jersey launch, he stressed the point of how lucky are those who get the opportunity to play in the green and gold.
The Wallabies head coach was once a contender. In the late 1980s, the Australian under-21 representative was a combative No.8, appearing in countless Randwick premiership teams, and hovering on major selection. He was feisty, emotional and highly skilled, but in front of him were such notable No.8s like Tim Gavin and Sam Scott-Young, so opportunities were scarce.
Let's just say there have been numerous inferior back-rowers to Cheika who have run on for the Wallabies. Without even thinking, I can name a half-dozen.
At just 23, Cheika decided than rather continuing fighting for a Waratahs and Wallabies jersey, he would head overseas in 1989, first to Castres in the south of France, then CASG Paris, before several years playing in Italy at Rugby Livorno.
Then onto a successful European coaching career. Yes, Cheika is a relatively content person, but when the Wallaby jersey is mentioned it is a case of what if?
© Cameron Spencer/Getty Images
"For me, the disappointing thing is that I didn't stay longer in Australia and really fight for that Wallaby jersey," Cheika told ESPN.
"I took the easy option, went overseas, blaming the fact that I didn't go to the right school and all that sort of stuff for being overlooked. You're young and brash. But with hindsight, I know I should have kept fighting for it.
"And I'll never know whether I would have made it. There were guys like Tim Gavin and Sam Scott-Young around at that time. But it's really not about the other players. It's not about the opposition, or the player who might be taking your spot. It is always only about you, and that you are always trying to do your best.
"Back then, I know I shouldn't have tried to blame other people, or constantly search for excuses. I should have kept trying to get into that Australian team."
So is there a feeling of envy when you are surrounded by Wallaby jerseys in the dressing room?
"No. I think that I can understand that not everything in life has to be a success. Sometimes you learn more from just missing out.
"I have more of an appreciation of that Australian jersey because I never got the chance to play in it. It sounds a bit stupid, but the fact is that I can let them know what that feels like, because they will never know that as they have played in that jersey.
© Cameron Spencer/Getty Images
"I can explain to them how guys who don't get the chance to play in it want so much for that to be different."
But did this also mean that he is self-conscious about not having played international football, and that the players in a Test dressing-room may be looking at him thinking: "Well, what would you know?"
"No. They like the fact that I am honest with them," Cheika said.
"There's no point me saying that I know everything, because I don't. I want to try to do the best I possibly can as well. To do that, as I haven't played international football, I have to make sure that I'm also learning, plus having the right people around me. That's very important."
As crucial is that the players have to treasure the national garment.
"That jersey has to be genuinely cherished and never taken for granted."
To emphasise that point, he has changed the system where the Wallabies used to receive two jerseys per Test match. Now they receive only one- so it is an enormous sacrifice if they want to swap it with a Test opponent after a game.
© Cameron Spencer/Getty Images
"I spoke to the players when we were on the end of season Wallaby tour in 2014 about going back to just one jersey per game, and they immediately agreed. They understood the message. It highlights the importance of the jersey, and that they should be rare."
The 2016 jersey Cheika has to hand out during an extensive international season which will see the Wallabies play all of the top ranked countries is relatively similar to the one used during last year's rousing World Cup campaign.
There's minor variations to the neckline, but nothing as radical as some past years where the Wallabies have ended up appearing in something resembling inflammable pyjamas or the SBS test pattern. After some absolute shockers, the Wallabies jersey is again acceptable, and allowed to be seen on the street during daylight hours.
Having spent many years playing and coaching overseas, Cheika understands how important the Wallaby jersey is as an international symbol. It is again being sighted here, there and everywhere.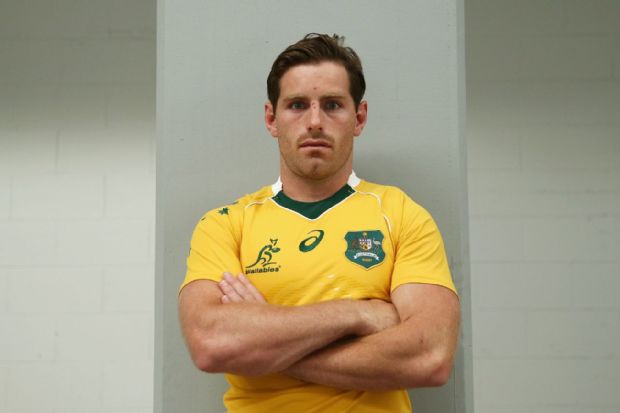 © Cameron Spencer/Getty Images
He also appreciates the Australian appeal in unexpected quarters.
"When I was in England for the World Cup, I was surprised how much they loved the Wallabies over there," he said.
"Overseas, people love Australians more often than not. In the contest, they don't like us. But as it is such a beautiful country, people dream about coming to Australia. So it is important we represent that when the Wallabies are overseas.
"When you have a good attitude, show some humility, enjoy yourself, not be too serious, and never take a backward step, which is what Australians are all about, people like that, as they put the footy team next to their original impression of what Australia is about, and can connect the two."
He will be trying to work such green and gold sunshine and light to his advantage all year.
© Greg Growden