England channel their inner Al Pacino to put Rugby World Cup plan back on track
Tom Hamilton
September 6, 2015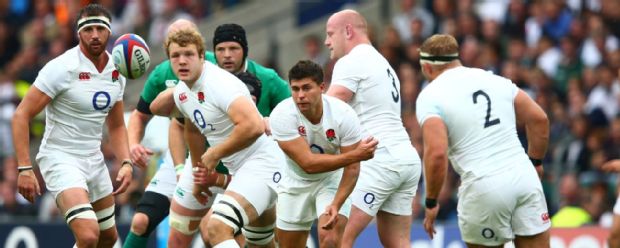 © Clive Mason/Getty Images
TWICKENHAM, England -- Stuart Lancaster revealed a while ago that his favourite film is the NFL-Al Pacino combination 'Any Given Sunday'. As a voracious reader of anything to do with leadership and the philosophy of American sporting figures like American football doyen Vince Lombardi, he may have taken some inspiration from Pacino's line from that film ahead of their encounter against Ireland at Twickenham: "Gentlemen - this is where we live. We're not going to let them f*** with us in our own house, are we?"
Reasserting an element of control over Twickenham was as essential as re-finding their rhythm in the set piece against the reigning Six Nations champions. Their record at that old concrete block in Middlesex is sound in the Lancaster era but after their poor showing in Paris in defeat to France two weeks ago, they had to show they had the bigger biceps in any arm-wrestling contest.
While there are still question marks over their front-row - at times England's scrum creaked as coach Graham Rowntree highlighted post-match - this was an infinitely more competent performance than what they put together in Paris.
Though Lancaster has a good idea of exactly what XV will face Fiji - he is an obsessive planner - he would have headed into this game with question marks over his optimum second-row partnership, his first choice blindside and No.8, just how Brad Barritt and Jonathan Joseph would link up in the centres and whether Owen Farrell would be a safer option than George Ford at fly-half.
Some of those conundrums are settled. Geoff Parling and Courtney Lawes showed enough cohesion in the set piece to be a sound choice as England's first choice partnership heading into the game against Fiji while Tom Wood put in his finest performance in an England shirt at blindside since the New Zealand tour.
Barritt and Joseph looked settled at No.12 and 13 and rubbished their lack of game time at Test level. Indeed Barritt was at pains to highlight how often they had been in the same England camp on numerous occasions and had developed that indefinable spark which answered their lack of battle-hardened international minutes.
George Ford looked as assured as he did against France back in March but Lancaster will still bemoan the opportunities they squandered against Ireland. There were overlaps that went amiss, communication at times broke down mid-phase despite Ben Youngs' commanding performance at scrum-half and the scrum turbulence will play on Rowntree's mind.
Ireland looked short of their masterful performance against England in the previous Six Nations where Joe Schmidt's men picked off Lancaster's like a thrown game of 'Battleships'. The loss of Conor Murray hurt them but there was a lack of intensity that was very un-Schmidt-like. They had their spurts either side of half-time and could have stolen the game but that would have been a fortuitous result and as a result of England's profligacy.
Simon Zebo looked radar-less at fullback while Tommy Bowe will wonder exactly how Jonny May managed to bulldoze over him for his try. May had a fine game for England but his performance in Paris will play on the coaches' minds - he strikes a fine line between the sublime and the scatterbrain.
Ireland will not be necessarily perturbed by their performance. They are the best team in their World Cup pool - the next best is France - and will have opportunities in the run-up to a nailed-on quarter-final performance to fine-tune the areas which were poor at Twickenham. In the great big World Cup scheme of things, we will have to wait and see whether their back-to-back defeats to Wales and England in these warm-up matches will throw any weight come the final throes of the tournament.
For England, the days of Lancaster gunning for a 600-cap team are long gone so he has to formulate his perfect potent mix in the next 12 days. He is unlikely to be swayed from his base instinct - the case of Danny Cipriani is a case in point, an individual who for all the world looked a perfect foil to England's bulldozers but who didn't make the final 31-man squad - but the win will have given him welcome relief after Paris.
As Pacino says in Lancaster's favourite film, it's a matter of building inches on inches. While their foundations are a little sturdier, they will only be cemented into the World Cup DNA with a commanding performance come September 18 and the Rugby World Cup opener against Fiji.
ESPN is proud to announce an exclusive 1-hour special - Cheika's Wallabies: Hope of a Nation - premiering on ESPN Weds Sept 9 at 9pm AEST (11pm NZ). ESPNscrum's leading rugby expert Greg Growden goes one-on-on with the Wallabies coach in this exclusive special that gives a rare insight into the intriguing personality of Australia's head coach.
© Tom Hamilton
Tom Hamilton is the Associate Editor of ESPNscrum.