'Dylan Hartley will bring fear factor back to England' - Hamilton
Tom Hamilton
January 25, 2016
Taylor: Hartley not the best hooker in England
The last chance saloon has just extended its final orders. When Stuart Lancaster addressed the press after Dylan Hartley had received the four-week suspension which led to the hooker missing out on his Rugby World Cup spot, the message was stark: Hartley's England career seemed doomed.
"There is a very real possibility that Dylan could find himself out of the squad for good," Lancaster said. "Anyone who is not selected for a playing reason or gives up the shirt for a disciplinary reason faces the possibility that they do not make it back."
The number 54 will be harked around until England's opener against Scotland, the collective number of weeks Hartley has spent suspended due to an array of misdemeanours. Encounters with the disciplinary officer cost him the 2007 and 2015 World Cups and the 2013 British & Irish Lions tour.
But he is like a boxer's punch ball; he takes the hits and bounces back. England have had a dearth of world-class players since 2003. Injury has robbed them of Alex Corbisiero, Tom Croft, Tom Rees and Manu Tuilagi who should have reached that level. England have also been looking for talismanic figures. No one has got close to that Martin Johnson standard of leading with blind passion and knowing exactly when to read the riot act or say nothing at all.
Hartley is the closest player England have to fitting both categories and is now crowned as Eddie Jones' first captain.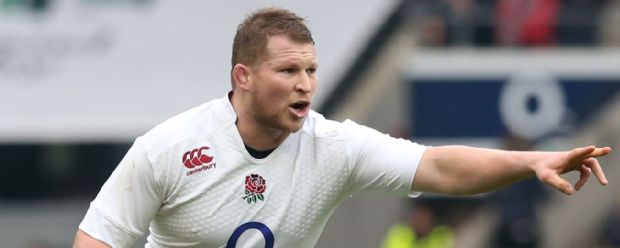 © (Photo by David Rogers - RFU/The RFU Collection via Getty Images)
Jones has a habit of picking captains in his own image. George Gregan skippered Australia in 2003, a diminutive, fast-tongued, workaholic. He expects loyalty and for the captain to be his on-field confident.
"Your captain's got to be your best player," Jones said earlier in January. "He's got to be one of the first selected in the team, and then he's got to lead by example. He needs to set standards for the team in terms of how we operate off the field, how we operate on the field, and he's got to be a conduit between the coaching staff and the players.
"Him and I are going to work so closely together. He is the coach of the team, he has got to be making that decision for the team on the field. We will probably be working more closely together than I will be with the other coaches."
It will be fascinating to see what approach he brings to the captaincy. In Hartley Jones will be looking to him to lead from the front and bring a steely edge to the England team. England under Lancaster were at times too nice; this is now an England team of fast-bowlers rather than leg-spinners.
In March, before he was hit with his World Cup-ending suspension, Hartley spoke of playing under the radar. "I am constantly thinking about it, constantly thinking about how the referee is seeing me, how he is viewing my actions, how I am carrying myself," he said. Just last week he spoke of being on "eggshells, on tippy toes, because of the new management". But Jones will not want Hartley to be introspective; rather he will want him to be the figurehead and the chest-beating heart of the team -- just so long as he stays out of disciplinary trouble.
Hartley's 2015-16 season has been patchy. Concussion saw him sidelined for six weeks and he has played just eight games for Northampton. He is also not guaranteed the first-choice spot at the Saints with Mike Haywood playing remarkably well. But Hartley will shore up the scrum and the lineout -- two facets of England's game which struggled in the World Cup. And with 66 caps to his name, aged 29 and with extended spells with his feet up, Hartley will be around for Japan in 2019 and the knowledge and wherewithal to be an inspirational figure within this England side.
But there will always be that disciplinary cloud. He will continue to polarise opinion -- just last week Lewis Moody said he sees Hartley "as a constant offender who is only ever going to put his side in potentially awkward situations" -- but giving him the captaincy is the right call. England need to re-find their steely edge, get some fear factor back and above that, solidify their creaking set piece. Hartley ticks all three boxes.
© ESPN Sports Media Ltd.
Tom Hamilton is the Associate Editor of ESPNscrum.