Dan Carter wins Rugby Union Writers' Club Pat Marshall Memorial Award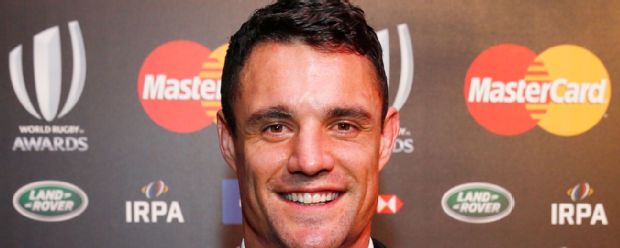 © Dan Mullan - World Rugby/World Rugby
All Blacks great Dan Carter has won the Rugby Union Writers' Club Pat Marshall Memorial Award as the sport's personality of the year for 2015.
Carter was recognised at the club's annual dinner in central London and follows in the footsteps of previous winners including former All Blacks winger Jonah Lomu and England's 2003 World Cup winners Jonny Wilkinson and Martin Johnson.
The 33-year-old first five-eighth amassed 112 caps during a 12-year Test career that reached its pinnacle with victory over Australia in the 2015 World Cup final.
He was subsequently named world player of the year and was recently voted 2015 BBC overseas sports personality of the year.
"There are some amazing names on this trophy, so to have my name alongside these legends is very humbling," said Carter, the fifth All Black to win the award.
"There's David Kirk who helped win the inaugural World Cup in 1987. Obviously there's Jonah back in 1995 - an amazing athlete and top guy. Sean Fitzpatrick (1996) is there too.
"Jonny Wilkinson in 2003 - who could argue with that? It's a huge honour to have my name sketched on this and be a part of history."
© AAP