'Embarrassed' Paul O'Connell is rightly centre of attention on Dublin farewell
Tristan Barclay
August 30, 2015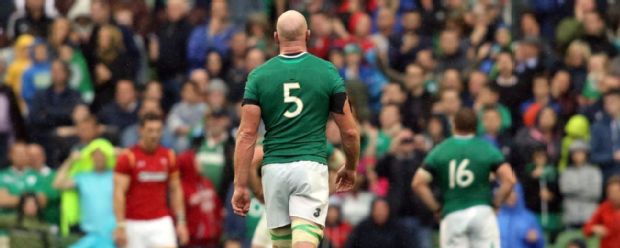 © PAUL FAITH/AFP/Getty Images
Paul O'Connell's face adorned the matchday programme for the last time at the Aviva Stadium as the giant Irish lock made his final appearance on home soil before his swansong in France. Inside the programme was a poster, entitled 'Thanks Paulie', the likes of which will grace bedroom walls across Ireland for years to come. On that poster were a series of pictures from O'Connell's time as an Ireland international, showing the pride he takes in the green jersey. All good things, however, must come to an end.
The printed paraphernalia was just one element in the great O'Connell send-off. To go with the paper souvenirs, the captain saw his face beamed onto the stadium's big screens at every available opportunity, the announcer cheer his name in the warm-up, and his young son join him for an on-field ceremony after the final whistle.
The only thing that spoiled it was the result. The visiting Wales, stung by a dominant Irish pack in Cardiff earlier this month, came to Lansdowne Road with their big guns trained on O'Connell and his teammates. With their strongest available XV they were determined to prove their Rugby World Cup challenge was alive and kicking. And it was a brutal afternoon. Men on both sides left the field with nasty-looking injuries, and O'Connell wore the scars of battle as he has done on 102 previous occasions. It was no retirement party.
In truth, what send-off there was embarrassed O'Connell. For him, the team comes first. Writing in Saturday's Irish Independent, former Ireland international Alan Quinlan dubbed O'Connell the "ultimate" team player. "Everything, and I mean everything, is for the team," he wrote. "That doesn't matter whether it's Young Munster, Munster, Ireland or the Lions; the team comes first." To certain eyes, O'Connell even appears to be a reluctant captain, despite being a phenomenal leader. The team is everything, his own celebrity just doesn't come into it.
No surprise then when he described the post-match niceties after his first start for Ireland in their World Cup warm-up campaign as "embarrassing". The Irish complete their preparations against England at Twickenham next Saturday, and their captain knows more than anyone they will need a big improvement if they are to go into the tournament off the back of a win.
© PAUL FAITH/AFP/Getty Images
"It was very nice, but embarrassing when you've lost the game, particularly on your first hit-out," O'Connell said. "I certainly felt a bit rusty. It's difficult to play as well as you'd like in your first start, so I really appreciated it, but at the end I was a little bit embarrassed. You've lost the game, it's not nice when you then have to walk into the middle of the pitch and give the crowd a wave.
"I love playing here in Dublin, I think it's an great city and Lansdowne Road is an incredible place. I'm really disappointed with today but hopefully I'll be able to look back on it in a few months as a really nice occasion."
O'Connell was far from the worst performer on the field, but he was right to admit he felt rusty. Although he buckled down to work in both the loose and close-quarters with his usual grit, there was something slightly lacking on Saturday. Perhaps with the likes of Dan Lydiate and Alun Wyn Jones shoring up the Welsh pack, O'Connell was unable to exert his will on the match with his usual snarling determination.
In the post-match press conference, it was put to O'Connell that victory was a secondary consideration in a World Cup warm-up. It was suggested individual performances and a cohesive game plan were perhaps more important than the result. His response was telling.
"Victory is always important - that is what underpins everything we do," O'Connell said. "When we get a certain amount of things right in our game, it always puts us in a good place to win the match. Until we start putting those things in place, we don't stand a chance of winning, especially those big games against big teams."
He might have just played his final game on Irish soil, but O'Connell was looking forward, to the "big teams" that lie in Pool D and beyond. Of course, one of the biggest beasts in the World Cup will be Ireland. And whether he likes it or not, O'Connell will be one of its star names.
© Tristan Barclay