New Zealand rugby has not felt so positive since 1996 series win over Springboks
Craig Dowd
November 3, 2015
Marshall: All Blacks can fill 'crater' left by stars
While the All Blacks and their support crew quite rightly celebrate their achievements it is a good time for us couch critics to ponder what the future might hold for the double world champions.
I'm confident that as long as Steve Hansen is at the helm we are heading in the right direction. He has said he is unlikely to be around after the inbound British & Lions tour in 2017, but cheque books can change that and it would be nice if New Zealand Rugby opened the cheque books and said, 'Sorry Steve, here is an offer you can't refuse'. At the same time, if he feels that someone from the management team he has grown around him could handle the top job then great, hand it over to them in much the same way that Graham Henry passed it on to Hansen. Call in a Dave Rennie, a Chris Boyd or a Jamie Joseph or whoever it might be, put them in that environment and up-skill them.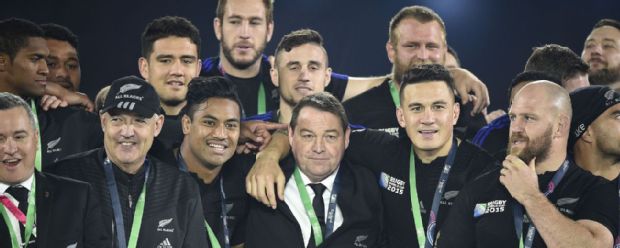 Steve Hansen and his Rugby World Cup-winning All Blacks
© MARTIN BUREAU/AFP/Getty Images
All Blacks hail McCaw and Carter
%]
So far as players are concerned, New Zealand are going to be fine. We have seen when Richie McCaw and Dan Carter haven't been there that we have had players who can stand up and fill those roles. But we have to draw a line under this Rugby World Cup victory and say this is the end of an era. Now it is a case of what is the team going to look like in 2016, and I think the New Zealand public may have to be prepared to lose a few games while the new order is ushered in.
It is a really nice time to be a young All Black, and that could be to the detriment of players who opt to try out for the New Zealand Sevens team for the Olympic Games in Rio de Janeiro next year;, if you take one year off and give someone a break, that vacant spot may not be there in 12 months time. The only exception to that rule would be Sonny Bill Williams, who has the class to walk back in.
All Blacks enjoying life as champions
%]
For a lot of players, the 2016 Super Rugby competition is going to be the biggest season of their careers to push their cases for selection.
Looking at positions, with Richie McCaw out of it at flanker, Sam Cane has been groomed, Matt Todd is not going to give up and Ardie Savea is thereabouts as well.
At loose-head prop Joe Moody has emerged and done himself justice, and with Wyatt Crockett we are covered. But there is a gap behind them.
Hooker has been helped by the emergence of Codie Taylor, Nathan Harris and Rhys Marshall who are all sitting behind Dane Coles.
Tight-head prop is covered with Owen Franks, Charlie Faumuina and Nepo Laulala.
The All Blacks perform a haka to celebrate their Rugby World Cup victory
© Richard Heathcote - World Rugby/World Rugby via Getty Images
We're well covered at lock, and I can see Brodie Retallick and Samuel Whitelock still being involved in 2019 so no problems there. At No.8 and blindside flank Kieran Read and Jerome Kaino will be around, and Victor Vito is still handy with Liam Messam possibly involved in the Sevens; but that is one area of the game we are always going to be fine.
Hansen: Victory still hasn't sunk in
%]
Half-back is fine and first five-eighths has Aaron Cruden, Beauden Barrett and Lima Sopoaga.
If there is one area of significant interest, it is the midfield and how it will look. The decision the selectors make will be influential in the game plan adopted for the side in the future. We have Ryan Crotty and Malakai Fekitoa who are two obvious choices, while George Moala and Charlie Ngatai have to be considered as well. It is a great time, and the All Blacks in these positions probably haven't had an opportunity for 10 years; they should grasp their chances because it is exciting for them.
George Moala
© Phil Walter/Getty Images
On the outsides, well there is talent to burn there with good, young players still involved.
The key word for me both about the future and about the World Cup final is satisfaction.
We're not nervous about the future; we're actually satisfied from the feast of rugby we've had. We've gone away with a full belly and are now prepared to say, 'Bring it on'. There's no sense that we've missed out on something, and this is probably the most positive New Zealand has felt since the 1996 series win over South Africa or, if you are talking World Cups, then since 1987.
Are New Zealand the best team ever?
%]
I don't think I've sat through a game of rugby and just come away so satisfied as I did with the final. It had everything, right from the drama, the tries, the tide turning and Australia coming back, everything from dropped goals to scrum penalties and just fantastic impact from the bench and what a great way to finish with Beauden Barrett scoring that try.
The other thing that was satisfying was to see six legends of New Zealand rugby go out on a high in what was almost a fairytale finish. If you are a rugby player wanting to map your career out and pick how you are going to finish and how you are going to bow out then, you can't pick a better place than Twickenham. There is no better stage. It is a fantastic stadium and a World Cup final, and having notched more than 100 Tests for your country you get to walk away with two gold medals.
Like any story, if you don't have the lows it is pointless reading it. But if you have the likes of 2007, which set up this whole scene to, and then you get France at Cardiff, all the criticism of Richie McCaw and Dan Carter from the early stages of the season when they should not have been peaking, and they just go out and shut those critics up; and, of course, we haven't heard anything from those critics subsequently.
Carter revels in 'special' farewell
%]
For Dan Carter to get the World Player of the Year was fitting for him, more even for his career than specifically for this year. For what he's been through since arriving in 2003 and the Lions in 2005, and to be around for 13-14 international seasons, he deserves everything he gets.
You do have to wonder about some of the awards, though. It is fluffy white rabbits out of hats some times. Is Michael Cheika going to look at his award and really think he was the coach of the year? It may have been very boring to give it to Steve Hansen because he's been there and done that, but for him not to get Coach of the Year leaves the average punter thinking "what more does a guy have to do?".
I think if there were an Up-and-Coming Coach of the Year award then Cheika would be quids in to get the award, but not to give the Coach of the Year award to Hansen is a bit like giving Joe Launchbury the Man of the Match award after Australia had thrashed England. Some of those people doing the choosing had had too many gin and tonics.
© ESPN Sports Media Ltd.