When Poey gets his rig out, you put your gear back on
Brittany Mitchell
February 17, 2016
© Cameron Spencer/Getty Images
As the 2016 Super Rugby season draws closer, Australia's contingent launched the new campaign with a day in the budgie smugglers at Wet'n'Wild Western Sydney. ESPN took the opportunity to keep theme and ask the quirkier questions to really find out more about our Super Rugby sides' representatives.
Christian Leali'ifano (Brumbies), James Slipper (Reds), Nick Stirzacker (Rebels), Wycliff Palu (Waratahs) and Matt Hodgson (Force) were dealt the hard-hitting questions designed to provide insight into the minds of backs and forwards; they couldn't agree on much but ...
Hill sprints or sand dunes?
Hodgson: "Sand dunes. I was born on the beach, grew up on the water, I was under-12s wade champion at nippers, so I really enjoy my beach."
Palu: "I'll go sand dunes, you can't run on them you just end up walking anyway."
Slipper: "Sand dunes, come on, you're on the beach, it's simple. You can go to the beach after."
Who's the hardest team to play away from home?
Leali'ifano: "Most of the South African teams are really tough. The atmosphere is always pretty loud and crazy. Pretoria against the Bulls, and the Bulls at their peak, it's a really, really tough place to win and play. They give you nothing; their support gives them an extra leg. They're a little bit hostile."
Stirzacker: "South Africa, Pretoria. Which is us round two, so that should be good."
Hodgson: "I think any team in Africa is tough. But this year it's probably Argentina. After travelling there for the Wallabies a couple years ago, it was probably a 24-hour round trip, so I think if we have to come up against them, they would be the toughest on the road."
Hardest to play away against in Australia?
Stirzacker: "The Brumbies, it's never a happy hunting ground there for anyone; so I'll have to pick Canberra."
Hodgson: "I think every team's tough. We find it hard to travel to Canberra especially; they always put us round one. Going from 40 degrees to minus degrees is always tough for the body, especially the older you get."
Slipper: "I'd have to say the Brumbies probably. Brumbies are quite hard, only because Canberra's quite hard to play in itself; it's very hard to get motivated as well. The weather's really tough as well. But they are a really hard team."
Who's more mischievous: backs or forwards?
Slipper: "Forwards; we're probably smarter, a bit more quick-witted. You'll get told different, but it's not true."
Leali'ifano: "I'm going to say forwards. Actually, no I'm changing, forwards are pretty dumb; I'm going to say backs. Backs are probably not as ballsy to do stuff to forwards, so they get other forwards that are dumb enough to do it for them. Matt Toomua is pretty good at getting Sam Carter, who's not all there, to be able to do stuff. Benny A is the typical forward; he's so gullible. But then Fardy on the other hand can really stitch up some guys as well."
Hodgson: "The forwards probably are, but we don't get away with it as much as the backs. Backs probably slip under the radar there a little bit. They're always just trying to get away with stuff like normal backs; a lot of our backs have started doing manicures and pedicures under the radar without telling us. There have even been pictures of us forwards going past taking photos on Instagram catching them out. Instead of us forwards going for long lunches at the pub, they're getting their nails done."
Palu: "Backs for sure ... half-backs. Nick Phipps those kinds of guys. I don't know what it is, it's a half-back thing, bit of niggle, stir the pot. It's a good thing, though."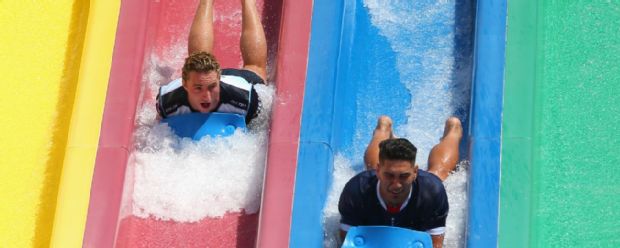 © Cameron Spencer/Getty Images
What's the best thing about playing rugby in Australia?
Palu: "Playing in front of your family and friends, the home support I guess."
Stirzacker: "Seeing your mates every day, and getting to train with them every day and do what you love. Travel the Southern Hemisphere. It's pretty special."
Leali'ifano: "Just the level of competition you have, travelling around the country and seeing the support you have around Australia. If you're playing in Australia you get to represent your country, that's probably the main one for me personally. I'm really excited about playing in Australia for another couple of years."
If you could play in any other position, what would it be?
Leali'ifano: "If I was fast, strong, maybe wing so I could score all the tries and just hang out on the edge there and let everyone else do all the hard work. It's really hard as inside centre or fly-half, you have to think a lot. I wouldn't mind just being passed the ball and taking it over the line. Just have to make sure you catch it."
Hodgson: "It would have to be 10; you just have to catch and kick. You don't have to tackle or be tackled; you could play two games in one day."
Slipper: "Probably five-eighth because I'd do a better job. Nah, I've got no idea. I'm a prop for a reason. I'd probably just kick for corners, play sensible."
Palu: "Five-eighth, I'd never pass the ball. Whenever you call for it, you get it. I'd never pass it or kick, I'd just run it all the time. Get all the money, get all the girls."
Budgie Smugglers or Boardies?
Slipper: "Boardies, I'm not even going to elaborate why."
Palu: "Boardies for sure, not allowed that out here [western Sydney], you'd get looked at funny."
Hodgson: "Depends where I am; if I'm doing recovery, it's definitely budgies. But if I'm down on the beach, boardies."
Slipper: "Depends on the setting: with the boys budgie smugglers, with the girlfriend probably boardies; she's not big on the budgies."
Leali'ifano: "Recently I've been trying to get into budgies, but you see guys like David Pocock walking around in budgies and you just chuck your boardies on, maybe a shirt and jumper to jump in the water, because jeez he's ripped up. So I'd say boardies."
© ESPN Sports Media Ltd.