Kelly Brown: 'I'll never stop trying to get back into the Scotland team'
Tom Hamilton
April 14, 2015
Kelly Brown
© Photo by Stu Forster/Getty Images
Kelly Brown will be spending part of the summer in France, that much is certain, but he is not sure whether he will be there for work or relaxation. There is the holiday he has booked with his family in the south, but then there is Scotland's pre-World Cup training camp.
If rugby had played out how Brown wanted - and how much of Scottish rugby felt it would - Brown would be having his 'summer holiday' in November, after he had put body and mind on the line for Scotland's World Cup campaign. Instead, if he finds himself on a French beach in the summer, it will be hard to prevent his mind from drifting to thoughts of how the Scotland World Cup training squad are faring in the French Pyrenees. If the latter eventuality plays out he will still be in international exile.
It has been an unwanted and speedy transition from captain to persona non grata. Brown started the Six Nations as captain in 2014. After they lost to Ireland he was dropped for games against England and Italy. But after being recalled for their final two matches and playing against Canada in the summer, there has been nothing.
Brown is currently Scotland rugby's equivalent of the 2011 Matt Giteau. In Giteau's case, the masses considered him worthy of the Wallabies team, but he was regarded persona non grata by Robbie Deans and left out of their World Cup squad. It was a surprise, to say the least. So Brown is in the Giteau-sphere.
It is an oddity Scotland deem him surplus to requirements. He brings more than a presence at flanker: his struggles with his stammer and the way he has overcome it can do nothing more than inspire those around him but the whole package is, currently, not enough for Scotland boss Vern Cotter.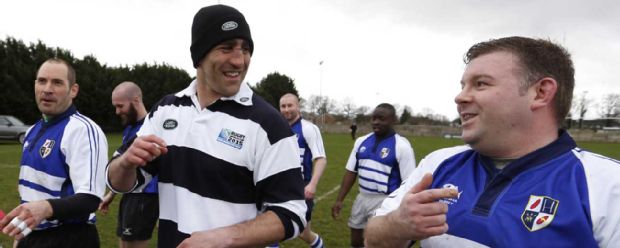 Kelly Brown
© Photo by Steve Bardens/Getty Images
"I can constantly evolve," Brown told ESPN. "Vern phoned me at the start of the Six Nations and gave me a couple of things to work on - one was ball carrying and the other concerned my general game, so that's what I am working on.
"I got the sense he just wanted a fresh start and to give a couple of the guys a chance. Blair Cowan has done well as have Adam Ashe and Rob Harley. I know I won't be around as long as these guys. I accept that but I'll never stop trying to get back in. I didn't agree with Vern, but you have to accept it as ultimately it's up to him."
But until the candle is completely extinguished, Brown retains the flickering, glimmer of hope he will be back in the Scotland mix come June.
"You cope with it because you have to. I was speaking it through with my wife and I know it's part of the game. It's a funny thing selection, it can change like that ..." And that's the hope, but any charge back into the team will start with his club, Saracens.
They've had a back-to-front type of season. Last term they started well - "we were smashing everyone", is Brown's take - only to then fall in both the Heineken Cup and Premiership finales. Those wounds took time to heal and you sense the ghosts are only being exorcised as we get towards the business end of this season. For Brown, it is has been his place of work but also a place of escapism, away from thoughts of Scotland.
"It's a fantastic club and I really noticed it in last year's Six Nations when I was dropped when captain and went back to Saracens," Brown said while speaking at a Land Rover event at Farnborough RFC. "It's an environment that you are so lucky to go back to as it's such an upbeat environment and when you go back into training, everyone is genuinely happy to see you and cares about you.
"If you look at some of the guys we've had injured and we've managed to cope without - Owen Farrell, Brad Barritt and Schalk Brits for example. Looking back to last season we were smashing everyone and scoring tries for fun but ultimately it didn't count for anything. We feel as if we are in a good place. We've been building, our game's evolving and we now need to take that into Europe."
Up next is Clermont Auvergne on Saturday. With Jacques Burger returning from suspension and Jackson Wray currently first choice at blindside, Brown is likely to be used in an impact role. Then come Saracens' final three matches of the Premiership and any potential knockout games after.
Thoughts of Scotland will wait until June and when that comes around, Brown will be found in France: either with his wife, two daughters and his mother and father in-law or with the national team. Heart and head will be split, but he hopes he will be with his country.
"If something does happen, I'm available. I love playing for Scotland, it's something I've never taken for granted and it's something I will always consider myself incredibly lucky to have done. If I get the chance again, which I hope I will that's great. If I don't, I will have 64 caps for my country, I'd have captained them and while I would have liked to have won more games, apart from that I have been incredibly lucky.
"I'm not expecting to be in the World Cup squad but I'll just keep working hard and we'll see what happens. It's a funny old game."
© Tom Hamilton