Positive-thinking Ben Morgan targeting England World Cup return
ESPN Staff
April 29, 2015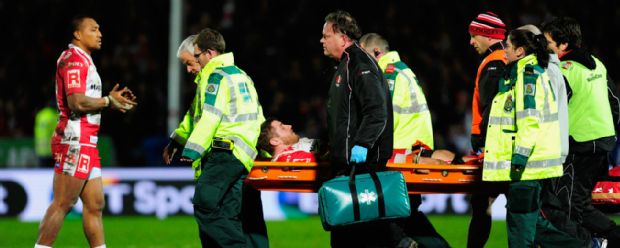 Gloucester's Ben Morgan is stretchered off with a fractured ankle during the Aviva Premieship clash with Saracens
© Photo by Stu Forster/Getty Images
Ben Morgan is "ahead of schedule" in his recovery from the fractured ankle he suffered in January and is setting his sights on getting fit for the start of England's World Cup preparations.
Morgan missed the entirety of England's Six Nations campaign after breaking his leg during Gloucester's Aviva Premiership victory over Saracens three months ago. The number eight recently underwent an operation to remove a pin from his ankle and is now waiting to be told when he can start running again.
"Ben is ahead of schedule and looking forward to getting himself fit for the World Cup," Gloucester director of rugby David Humphreys confirmed.
The 26-year-old's injury paved way for Billy Vunipola's reinstatement as England's number eight during the Six Nations. Morgan had displaced the Saracens star as Stuart Lancaster's first choice following an impressive autumn series, in which he scored two tries against Australia and one against South Africa, late last year.
However, The Times states Morgan has been inspired by reading Rhonda Byrne's book The Secret, which promotes the power of positive thinking. Having already undergone a strength and conditioning programme, Morgan is convinced he can return a stronger player.
"I am in a great place," Morgan said. "When I got injured I thought, 'for f***'s sake', of course I did, but then I flipped it.
"I sat in the hospital and thought, 'OK, it's done. If I start thinking about what I have missed out on I'm just going to become negative.'
"My mindset is to live the law of attraction. Negativity breeds negativity: if you think positively, positive things will happen. I can use this experience to my advantage by getting bigger, better, faster and stronger, not sit and fester, getting fat and lazy and never coming back.
"The hardest part has been sitting and watching because I want to be out there playing, but my goal is to be available for the World Cup and that means being fit to play in the warm-up matches. I am on schedule but you learn with an injury like this to take it gradually, going from day to day and week to week. At the moment things are going well.
"I have a lot of strengthening to do around my legs and when I have completed that I can start chucking some serious tin around. There is no point in rushing.
"Playing in the warm-up games would give me a shot of making the squad, but there are so many variables and I will not do anything that is detrimental to my health."
© ESPN Staff