Heyneke Meyer forecasts 'invincible' Springboks
Argentina 13-24 South Africa (Australia only)
South Africa coach Heyneke Meyer forecasts his side can become "invincible" after they won the Rugby World Cup bronze medal in the third-place play-off against Argentina at Queen Elizabeth Park in London.
South Africa fell short of the standards Meyer had set for the two-time world champions, but third place represented a huge recovery given they started the tournament with a shock 34-32 loss to Japan - the biggest upset in World Cup history. And with several Springboks players still in their early 20s, including lock Eben Etzebeth who scored a try against the Pumas, and fly-half Handre Pollard, who kicked 14 points in the match, the future appears bright for South Africa.
"Having been so close, I think this team can be invincible going forward," Meyer said. "In four years, even another year, they will be a different team."
Whether Meyer remains in charge, however, remains an open question.
"I truly believe you shouldn't let compliments go to your head, and you shouldn't let criticism go to your heart," Meyer said of the flak he endured following the Japan loss.
South Africa see off Pumas
%]
Meyer, criticised for bringing back Victor Matfield out of retirement last year, paid tribute to the veteran lock, who played his last Test on Friday.
"He's one of the greatest to ever play the game," Meyer said of Matfield. "Some people dream dreams but don't have the character to make them come true. He took a chance and came through."
Matfield, meanwhile, insisted his decision to come out of Test retirement "was definitely worth it, saying of the Boks' Rugby World Cup campaign that "something special happened" after the loss to Japan.
"We were one [match] away from competing for the trophy. The guys picked themselves up."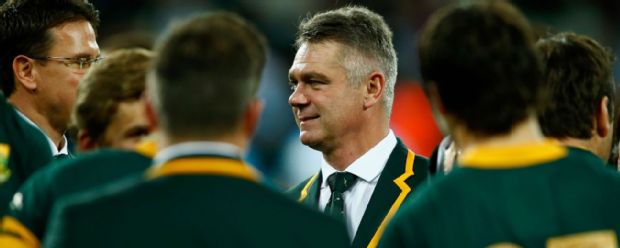 Heyneke Meyer celebrates with his players
© Mike Hewitt/Getty Images
The one sadness for South Africa on Friday was the fact that Bryan Habana squandered several chances to score the try he needed to break the World Cup record of 15 he shares with retired New Zealand star Jonah Lomu. Habana, whom Meyer said he took off 13 minutes from full-time because of cramp, is unlikely to feature at the 2019 World Cup but Matfield said "if I can play until 38 he can probably play another four years".
"Bryan is an outstanding player, equalling Lomu is a fantastic record. Probably tonight, he wanted it too much. There were so many opportunities where he was so close."
Habana is the leading non-white Springboks player of his generation, and Matfield said his fellow 2007 World Cup winner is "even more valuable" to South Africa off the pitch than on it.
"It was a real pity he couldn't get that record."
© AAP