Billy Vunipola becomes England's go-to guy -- in every sense
Tom Hamilton
February 27, 2016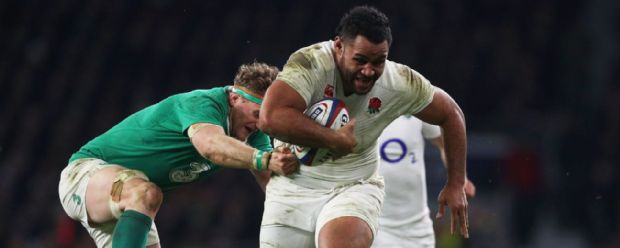 © Paul Gilham/Getty Images
LONDON -- England still don't do things the easy way. They had more than enough chances to put Ireland away in the first half at Twickenham but a lack of composure meant they were left fighting on their own try line in the final stages without a sin-binned scrum-half.
But then came the second of two match-defining moments for Eddie Jones' side -- Dan Cole dispatching Cian Healy in a scrum on England's five-metre line, sucking the air from Ireland's charge and redistributing it around HQ.
England stay on course for Grand Slam (video available in Australia only)
The first match-defining moment had come 10 minutes earlier. England made 147 tackles but one of those was the highlight of the Jones tenure so far. With Robbie Henshaw sprinting towards England's line in the 65th minute -- the hosts 11 points to the good -- Jack Nowell timed and angled his run to perfection and hit the centre hard enough to not only jar the ball loose as he stretched over the line but to bundle him into touch for good measure. England's lead was preserved and despite Ireland's best efforts they could not pin that deficit back.
"Good times never seemed so good..." rang out at half-time but when Conor Murray dotted the ball down in the 45th minute the lyrics from Sweet, Caroline seemed horribly premature from an England perspective. But then Jones' side found that ingredient that had eluded them for the first 40: composure. Quite how they only managed to go into the break three points to the good only they know. They squandered at least four try-scoring opportunities through an infuriating lack of passing precision. But eventually they clicked with Anthony Watson and Mike Brown scoring in the space of three second-half minutes.
It was a nervous atmosphere. The spectre of England's World Cup disappointment hung over Twickenham. This was the first time the national team had played a full international here since being dumped out of their home World Cup by Australia in October.
Ireland, bereft of a group of influential players, also came into the match uncertain after a shaky start to their Six Nations campaign. The West Car Park, normally a hub for alcohol-fuelled excitement, was eerily quiet. Perhaps this was due to the Baltic conditions, perhaps due to the uncertainty over exactly where England are as a side.
The learnings about what they will be under Jones continue, though. Billy Vunipola has emerged as their go-to man when in need of yards. He was fantastic for England and again carried time after time at the Ireland line.
© Ben Stansall/AFP/Getty Images
He also ended up captain; it was a little strange hearing him addressing the referee, Roman Poite, as England's other go-to man -- the role of chief communicator -- in his affable, unassuming manner. The most incongruous example came while making a plea for the defence of Mike Brown as replays of the England fullback's studs being dragged over Murray's face late on were being shown on the big screens. It worked, though, with Brown escaping any punishment and Danny Care instead being sin-binned for cynically not rolling away.
Jonathan Joseph also impressed for England while Cole was heroic but the management will be concerned by the number of chances England squandered. The potential is there but the fluidity in decision making was alarmingly elusive. They eventually found that right mix in the second half for their two tries but this was clear evidence that England are still a work in progress.
Can England win the Grand Slam?
%]
Ireland will be left to lament some shots off the ball that referee Poite missed and the late decision not to award them a try when Josh van der Flier tumbled over, the benefit of the doubt going in England's favour. Their colossus was Sexton who, despite the pre-match circus, played with a wonderful assurance. Had they had more power in the pack for him to play off then they would have run England closer.
Stuart McCloskey played well on his Ireland debut and he showed enough in the first half to suggest he will become a regular in this side. His physicality was hard to deal with and he slotted in well, even making a rare clean break at the end of a first half that had been bereft of any such enterprise.
The same went for England's Maro Itoje, who was making his first start. Whenever he carried he made yards and he also won a key lineout steal in the second half when Ireland were looking to move into the ascendancy.
Ireland will lick their wounds and come back better from this trip to Twickenham while for England they have a new spectre hanging above them: the Grand Slam.
In the media room sitting atop of the east stand, nine pictures are on the wall: England's nine Grand Slam captains. Only one is in Technicolor which is Martin Johnson in 2003. This side are a way off those World Cup-winning standards but with three wins from three, and the crunch match against Wales at home, they are favourites to lift the title.
However, they will most certainly have to improve that chance-taking accuracy if they are to see off Wales. The rule should be simple with Billy Vunipola in the team: if in doubt, give it to Billy.
© ESPN Sports Media Ltd.