Seven things we loved about the 2016 Six Nations
ESPN Staff
March 20, 2016
© Shaun Botterill/Getty Images
Billy V the gentle giant
© Aurelien Meunier/Getty Images
The England No.8 has had a remarkable Six Nations and if things pan out as they should do, he will be named player of the championship. But he has been a joy to deal with from a press perspective.
There is barely a filter with Vunipola. Before the France Test he used the media to inform his mother he is moving in with his girlfriend. It was a decision his older brother Mako deemed stupid.
His growth has been under the watchful eye of Eddie Jones. After his man-of-the-match performance against Scotland, Vunipola spoke of how motivated he felt under Jones. The Aussie spent the Six Nations in Vunipola's ear telling him he could be the best No.8 in the world and he is reacting well.
He remains one of the more affable members of the England squad. After Ireland, with another Man of the Match award to his name, he started speculating over what 'cheat' meal he'd have and then prior to France, before revealing his new accommodation dilemma, he spoke with pride about the shiner he was sporting around his left eye. But don't for a second expect Vunipola to get carried away with the hype: his brother Mako is ensuring his sizeable feet remain firmly planted to the ground. -- Tom Hamilton
England's new Captain Fantastic
© Steve Bardens/Getty Images
When Dylan Hartley was unveiled to the press as England captain in January, 95 per cent of the questions were over his disciplinary record. Eyebrows were raised, his credentials queried. But he has played the role brilliantly. He has shored up the set piece and has been fantastic to deal with.
He is honest, introspective but confident, perhaps personifying the new England. The path to redemption was completed against France and even though he suffered that awful bang to the head in the 68th minute, he returned to the field -- albeit a little gingerly -- to lift the trophy. -- TH
Players are human after all...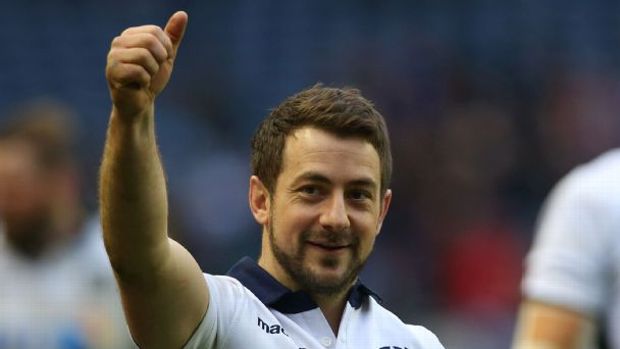 © Ian MacNicol/Getty images
In these days of professionalism and increased media scrutiny, it is easy to forget that the protagonists lionised and demonised on the pitch are actually human beings.
Players often wear the mask of competition when they are on the pitch, and therefore it is often revealing to see them interact with the press once they have had time to gather their thoughts.
For example, who would have thought Scott Baldwin would have emerged as Wales' championship champion-in-chief on the doomed road to Twickenham?
It is not uncommon to see players and coaches depart into the night with green bottles in their hands, but it was endearing to see how one Scot playfully dealt with the situation as he realised he was answering questions while still swigging from his.
Other players just plain look like they could do with a drink following events of the previous 80 minutes. Sean Lamont and Sergio Parisse are just two players who have offered frank and compelling assessments of the failings of their teams.
Such instances might be described in stories as 'outbursts' or 'rants' but they show just how much these games mean to the players and in turn ensures fans remain able to relate to them. -- Martyn Thomas
Saving on the print costs
The opening weekends were dominated by late withdrawals as rumours that emerged on Twitter on the eve of a match were confirmed only on a team's arrival to the ground.
In a 24-hour news environment, the team sheet was king as journalists waited with baited breath to substantiate what they already knew with the up-to-date, hot-off-the-press lineup.
How refreshing a trip to Cardiff can prove therefore. On arrival at the Millennium Stadium you are given your ticket, a programme and a team sheet.
That team sheet is taken from the initial team announcement, and they do not do reprints. If there is a change then reporters are required to scribble out the requisite name and pen in the new one themselves.
I deigned to ask if there would be a new one printed before the Wales-Scotland match and was rightly put in my place with a knowing stare.
That outcome wasn't great for the ubiquitous team sheet tweet but it made total sense, and saved some trees in the process. -- MT
Going somewhere, lads?
© Richard Heathcote/Getty Images
It was nice to see a smile back on the faces of Joe Schmidt and Rory Best following Ireland's dismantling of Italy. Following the Azzurri's post-match press conference, Schmidt and Best entered and began their respective analysis of the match.
What followed was bizarre. First it was one, then two -- then a procession. The travelling media had obviously heard enough in Dublin, as a throng of Italian journalists noisily stood up from their chairs and exited stage left.
A bemused Schmidt and Best coolly kept their composure amid the mass exodus in front of them, although Ireland's head coach looked distinctly unhappy with the lack of etiquette. Deadlines are deadlines -- especially when your team has just been hammered 58-15. -- Robert Bartlett
From Rugby With Love...
© Frederic Stevens/Getty Images
We're all guilty of a bit of James Bond love. Those Sunday afternoons spent lying on the sofa, watching Sean Connery juggle an exploding pen. Admit it -- we've always dreamed of being Bond, even for a little bit.
It seems that France are no different. Following their victory over Ireland at the Stade de France, the media mixed zone resembled somewhat of a James Bond identity parade. After Ireland's disheartened stars had limped sullenly past in their team tracksuits, the French strutted through in their perfectly-fitted tuxedos, laughing and joking with team officials on the way.
It seems that, after every home game, the French attend a special dinner and this one was no different. It's just a shame the match that preceded was more, erm, Quantum of Solace than Casino Royale. -- RB
But first, let me take a selfie
The calls for Italy's relegation from the championship have again grown in fervour after the Azzurri produced another series of drab performances to finish with their familiar wooden spoon. However, while the team's on-field efforts have been bottom-of-the-pile, Italy's fans have been A grade in their support.
Example: The sheer enthusiasm with which a horde of young fans greeted the chance to take a selfie with Italy fullback Luke McLean was something to behold. Left out of the squad for the home clash against Scotland, McLean was among the supporters ahead of kick-off as part of team-bonding exercise.
Standing on a podium to greet fans, the Sale Sharks man was utterly swamped by selfie-seekers and autograph-hunters alike. Their team might be on an appalling run of form but there can be little doubt about Italians' love of rugby. Relegation from the competition would be a cruel way to reward them for their loyalty.
In fact, while the tournament's structure might be coming in for criticism, it still offers excellent entertainment value for supporters. Some of Europe's most wonderful cities open for the business of rugby, in which visiting fans are welcomed with open arms -- it is a unique thing and long may it continue. -- Tristan Barclay
© ESPN Staff