Australian NFL star Jarryd Hayne surprises Fiji Sevens squad
Sam Bruce
February 5, 2016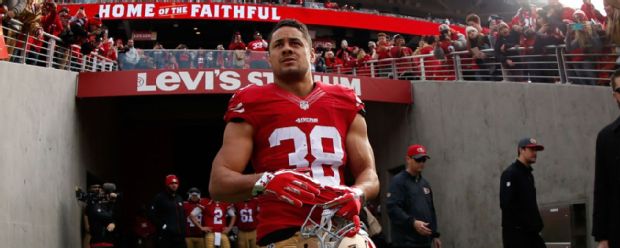 The Fiji Sevens squad were "blown away" by a special guest in Sydney, with the San Francisco 49ers' Australian recruit Jarryd Hayne dropping in to say hello.
Hayne was the surprise guest at a Fiji Airways function ahead of the Sydney Sevens, the former rugby league star presented with a team jersey before he joined the Fijian squad in a spine-tingling song in front of a large contingent of local media.
"It's great to come down here and for them to be so welcoming," Hayne said.
"To have me in their camp and obviously to present me with a jersey, which is special. It's a big thing to get your name on the back of a sevens jersey and I understand that -- I understand the significance of that. So it's definitely special, it's an honour and a privilege to be down here."
Hayne is from Fijian blood on his father's side and is well aware of what rugby sevens means to people across the Pacific Islands.
The former Parramatta Eels full-back nominated sevens great Waisale Serevi, who has done some defensive coaching with the Seattle Seahawks, as a player he used to watch as a kid.
"You know I've always watched the sevens and Serevi is obviously a God in Fiji," Hayne said.
"So to watch him play and to see his influence over the culture and the generation of Fiji has been amazing. And I think the Fijian skill-set really shows in sevens; they're flamboyant, the ball is never dead and I think that shows in my game as well."
While Hayne may have exhibited those skills in a former sporting life, he's unlikely to make a change to rugby's high-energy, and aerobic, shortened form.
"Yeah it depends, how many interchanges have they got? Hayne joked.
"I'll probably last a couple of runs, I'm about the power and speed at the moment. The body has felt better endurance-wise; it's not the best. "But like I said, it's just great to be down here, to be part of the team and I think it's (Sydney Sevens) sold-out as well -- so that's huge.
"I'm sure everyone in Sydney is going to be well entertained and I can't wait to get down there and watch the boys do their things and hopefully they're there in the final."
Fiji Sevens coach Ben Ryan said Hayne's appearance had made a real impact on the squad.
"Yeah I knew beforehand and the boys were so happy," he said.
"In fact, when we were coming here, he drove in the car on the street and so the boys suddenly turned and saw him and their mouths dropped.
"We had to pretend it as surprise second-time around but the boys were genuinely blown away by his presence."
As for drafting Hayne in across the weekend?
"I said we've got him a shirt now, so I said we can run him on at half-time," Ryan joked.
"We can stick him in at wing or at centre or playmaker. He would genuinely be box-office wouldn't he, if we could get him on the field?
"But I don't think the 49ers would be too happy about that. So he'll be behind the stands cheering us on."
© ESPN Sports Media Ltd.