Mark Cueto: Referees need to make a decision and then get TMO involved
Mark Cueto
February 28, 2016
Jones: Vunipola will only get better
England have put themselves in an excellent position in the Six Nations with victory over Ireland, but the match at Twickenham on Saturday again highlighted the fact that referees are still relying too much on TMOs.
Romain Poite referred a try decision for each team upstairs -- one in each half -- while there was also a long pause 10 minutes from time as the French official checked for foul play against Mike Brown before showing Danny Care a yellow card.
The referee is there to make a decision, and I would have liked to have seen Poite back himself to make the correct one. That is what he is there for.
I thought Scotland's exit from the Rugby World Cup, overshadowed as it was by Craig Joubert being denied video assistance before making an incorrect call in Australia's favour, should have brought with it a slight change to rules governing when officials can use the TMO.
Personally, I believe that referees should be given free rein on what they are able to refer upstairs, not just those incidents involving foul play or try-scoring chances. Instead, officials on the field of play are not given the same access to video footage as everyone watching around the world. 
That said, I believe the referee should be required to make the call in the first instance, and if he is in any doubt, then go back to the TMO. This is similar to how it works in cricket and American football, to cite just a couple of examples from other sports: an official makes a decision and it is then up to the video evidence to prove that decision incorrect.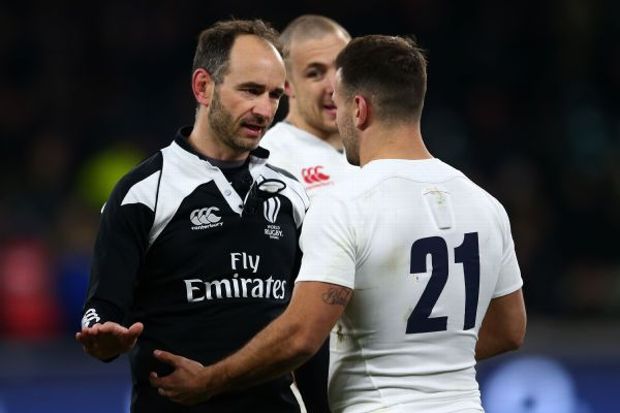 © Michael Steele/Getty Images
Potentially that would allow a more free-flowing game as you would not keep going back for every decision all the time, as has been the case in recent matches.
Ultimately the TMO is there to help the referee make the right decision, and if they can do that then it is good for the game. But those in the middle cannot be allowed to shirk their responsibility of making the initial call.
England should be happy with their afternoon's work, as victory has put them in a great spot, with three wins from three leaving them as the only side that can do the Grand Slam.
I fancied Eddie Jones' side to win by 10 against Ireland, and although it looked a little too close for comfort until Anthony Watson and then Brown crossed the try line, the end result is everything they would have wanted.
England are making chances but they were unable to quite capitalise on them in the first 60 minutes or so, as was the case in Rome. However, Test matches are won in the last 20 minutes -- not the first 20 -- and it's a positive that it is that period that they have come on strong in their last two games.
They should also be delighted with their first win at Twickenham under Jones, which will go some way to exorcising the ghosts of their painful World Cup exit.
Billy Vunipola put in another huge display against Ireland. He is such a massive threat. No matter what team you put him in, his ball carrying ability is just incredible.
© Paul Gilham/Getty Images
He's slimmed down a bit and I think both Saracens and England deserve credit for the work they have put in. As does the player himself, because he looks 10 percent better on the field. He has always been a good player at Premiership level but to have that same impact at international level he probably needed to get physically fitter, which is what he's done. What a great asset for England to have someone like that off the back of the scrum.
Looking ahead to the Wales game at Twickenham in a fortnight, Vunipola's battle with Taulupe Faletau could prove pivotal. The Welsh back-row is incredible and is probably their biggest threat across the park. Faletau is a very similar player to Vunipola, he is a big ball-carrier that will look to get his team on the front foot and has been in great form during the Six Nations.
You would have to say that Billy has been in slightly better form but it is certainly a battle that people will be licking their lips over, and a lot of it will come down to the platform either team can create off the scrum.
If England can keep ascendancy in the set piece then it will give Billy, and the team as a whole, a much better chance. A win there and another World Cup ghost will be exorcised, leaving a championship and Grand Slam to go for in Paris in the final match of the tournament.
© Mark Cueto