Argentina's Juan Martin Hernandez picks up where he left off in the Rugby World Cup
Tom Hamilton
September 20, 2015
New Zealand too strong for Argentina
For 67 minutes of the match, Wembley felt like it had been transported from London to Buenos Aires. Argentina believed, the blue-and-white-shirted supporters were vocal, passionate and dared to dream. In the end the Pumas' performance saw them open their Rugby World Cup with defeat -- lauding valiant losses are a thing of the past for Argentina, they are contenders through merit not charity.
Since their third-place finish in the 2007 World Cup, Argentina have oscillated between sheer brilliance and mediocrity. They are now somewhere back near that level, their place in the Rugby Championship is paying dividends, but it took them eight years to find replacements for once in a generation players like Agustin Pichot, Rodrigo Roncero and Felipe Contepomi. But it was one of the 2007 vintage who was their master puppeteer at Wembley.
It was roughly at the same time the All Blacks had their foot on Argentina's throat that Juan Martin Hernandez made his first mistake when he found the wrong side of the touchline with a clearance kick. Until then, watching him play was sheer hedonism.
Almost fittingly, the last time the world watched Hernandez was in that famous third-place play-off win over France in Parc des Princes back in October 2007. A knee injury suffered in March 2011 dashed his hopes of making that edition of the tournament and it was to the sport's detriment.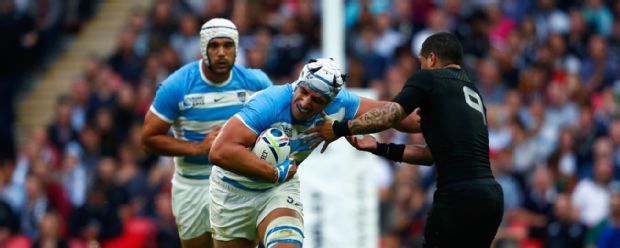 Argentina attacking
© Shaun Botterill/Getty Images
The tournament was made for players like him. Those who watched Hernandez in awe back in 2007 held on to the memory of his sublime running pass off his left hand for Martin Aramburu's stunning 52nd minute try. But since then, his struggles with injuries, his nomadic existence taking in four different clubs and his absence from the 2011 World Cup -- though there were flashes of brilliance, with his sublime performance against South Africa in Salta in 2014 a masterclass -- there was a growing fear that pass for Corleto might have been the final brush flick in his own personal World Cup masterpiece.
'El Mago' treats the game as an art form, even down to his kick-offs. He nonchalantly puts his foot lazily through the ball, which pirouettes delightfully into the sky and he holds his pose before turning his back as if he has just hit a pinpoint shot off the first tee at Augusta.
Then there were the passes. The 16th-minute behind-the-back pass for Marcelo Bosch, the outrageous through the legs nudge in the second half. His kicking from hand was also sublime, almost from the word go, while a second-half chip and chase forced the All Blacks offside to concede the penalty.
Though Los Pumas fell, there will be at least three more chances to see them in this World Cup. Play like this in those trio of matches and they will be comfortably in the quarter-finals, and then the rest of the tournament is in the hands of the rugby Gods. If those deities are lovers of the game played as an art-form, they will smile fondly on Hernandez.
The good news for admirers of Hernandez is that he still has time left on rugby's domestic and international stage. Next season he will play in Super Rugby for the Argentina franchise. Sign me up for a season ticket.
© ESPN Sports Media Ltd.
Tom Hamilton is the Associate Editor of ESPNscrum.