Springboks legend John Smit on transformation, life as a CEO and how to win the Rugby World Cup
Tom Hamilton
October 15, 2015
A game too far for Wales?
DURBAN, South Africa -- "To win a World Cup you need perfect timing and some luck," says John Smit as we look over the practice pitch at Kings Park. The sun is beating down on a Sunday in late July and as we talk two of his children are hunting for insects to pass the time; there is a promise of ice cream at the end following their 'fun run' earlier in the day.
Various shades of coloured chalk from a fun run earlier in the day are still evident on Smit's neck as he assesses the perfect cocktail needed to win the sport's biggest prize. It was something he achieved in 2007 as captain but then fell short four years on when they were dispatched in the quarterfinals to Australia, a game which still hurts.
"You have to have a team where all 30 or 31 believe in the coach and believe in each other. There has to be a massive sense of family. It's a four-year journey really and by the time you get to the World Cup you have to be a solid unit. And you must have other artillery to fall back on when you get taken out of your comfort zone.
"That's where we were in 2007, we were a team that was so close knit and we'd been through a lot together. We were very, very clear on how we wanted to play rugby and we also had a lot of core leaders."
Smit is now in the third phase of his rugby life. After being John Smit the Springbok, John Smit the captain, he is now John Smit the administrator in his post as chief executive of the Sharks. He sees things a little differently now.
South African rugby is a difficult beast to comprehend at the best of times, he now has to analyse it from a financial perspective alongside the ever-present question of transformation and the constant pressure for success. Last season did not go to plan as the Sharks finished 11th in Super Rugby. There has been little respite in the off-season.
This summer he has seen two of his most experienced players leave -- Bismarck and Jannie du Plessis -- for France. Their most promising star Pieter-Steph Du Toit has also upped sticks but for the closer locale of Cape Town and the Stormers.
Howley: Wales are battle-hardened
%]
"I've had to learn a hell of a lot [as CEO]," Smit says. "Though how I manage the role and leading this franchise is how I'd lead a team. You don't have those lazy coffees or long lunches on days off. I kept on thinking it will calm down but it won't. If you're not working all the time, you'll fall short.
"And then when you start to underperform, skeletons come out of the closet and it was exactly like when you were Springboks captain."
Rugby has been in his blood since birth as has his competitive nature. At the age of 17 he was sat in the Ellis Park stands watching the Springboks win the 1995 World Cup. He would emulate them 12 years later but there is still an unquenchable desire for improvement and excellence. That pressure for success is ever-present with him but rather than keep it at a distance, he welcomes it and any criticism.
"Rugby has to be fickle. There are the supporters who are blindly passionate about winning. You don't want them to understand the dynamics of the team, rotation or whatever.
"They're interested in taking off their suit, they've been in a job 8-5, they've got load-shed [deliberate shutdown of electric power in a certain area in order to cope with high demand], the rand has gone to the dogs and the only thing they can hope for is that they can put their shirts on a Saturday and be champions. And when we don't deliver that, it upsets them even further. If we don't see it that way, we'll misunderstand what drives their passion."
The pressure for results is married with the pressure for fast-track transformation. When Heyneke Meyer unveiled his team for this weekend's quarterfinal against Wales, the number of black players in the team was always on the agenda; three were named in his starting XV with a fourth on the bench. During his Springboks captaincy days Smit would sit in his hotel room and field calls on the subject, much to the shock of his Barbarians room-mate in 2008, Richie McCaw.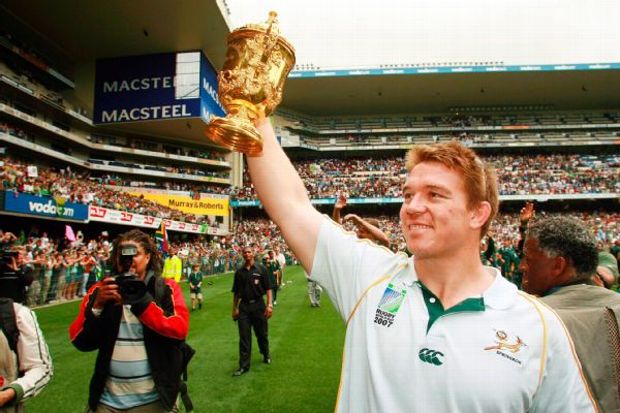 South Africa's John Smit lifts the Rugby World Cup
© Gallo Images/Getty Images
It is part of the job and the DNA of professional rugby in the most wonderfully intoxicating of countries.
"Transformation is a misunderstood topic in South African rugby," Smit says. "I think it's been misconstrued mostly which is why it creates such confusion and is a debated about forum. Transformation for me is a simple one. There were quotas to try and re-align what was a vast imbalance in being treated fairly in this country post-1994.
"Transformation is not about giving people an unfair chance. It's about saying hey, we have 50 million people, let's say half of them are men - that's 25 million people. Let's transform that so as many of those can play rugby so we no longer have to pick from three or four million people.
"The faster we transform, the more the kids in the townships love rugby. Our drive for transformation is also almost greed as we can then pick from more players. I think it's been misconstrued ... along the lines there were a couple of guys that people though shouldn't have been picked but you can't tell me now that for the last 10 years there's a guy who's been picked in a Springboks side that hasn't deserved it."
While weighing up the racial proportions of his team, he also has to balance the books. He can't compete with the offers tabled to the Du Plessis brothers but he also feels a shift in the Springboks selection policy would help him. He is opposed to them picking players based outside of the country and also feels alignment with the northern hemisphere is needed to help boost the commercial side of the sport.
"I think it's inevitable we will play in a northern hemisphere competition. It makes the most sense. There's no longer that top three and then a void, there are a number of nations who can win the World Cup now. The Top 14 is so competitive, the same with the Premiership and the Heineken Cup is amazing. I think there is huge potential for us to align ourselves with the northern hemisphere."
At this point his children are climbing up a ladder in the scaffolding around one of the clubhouses and then ask if they can see their dad's office inside Kings Park. "Ah I'm not meant to be at work today," he responds but soon has his arm-twisted. Juggling the family and the pressure for relentless success, he could be forgiven if he fancied a quieter life. But that wouldn't be the man.
"Is it all tiring? I don't know what to compare it to, it's all I've known since I was 18. I have mates who run their businesses and walk around in board shorts and they look happy but this is perfect for me. I never thought I'd be CEO of the Sharks. I think if I went and ran a coffee shop, I'd be bored."
© ESPN Sports Media Ltd.