Georgia's Vasil Lobzhanidze set to become youngest World Cup player
ESPN Staff
September 16, 2015
Georgia scrum-half Vasil Lobzhanidze is set to become the youngest World Cup player in history - and the first 18 year old to play in the tournament - with head coach Milton Haig confirming the teenager will feature in the pool stage.
Lobzhanidze, who was still at school during the last World Cup in 2011, will surpass American Thretton Palamo as the youngest player should he feature in one of Georgia's pool matches against Tonga, New Zealand, Argentina or Namibia. Thretton was 19 when he played against South Africa in 2007.
"He'll certainly feature, we're still in the selection process so whether that's in the first game [against Tonga] or the last game [against Namibia] we don't know yet, but he'll definitely play. There's no doubt," Haig said during a press conference at the team's hotel in Bristol.
"He's in the squad because he's one of the top three scrum-halves in Georgia and he's our number one No.9. He's earned his place through his play and obviously he brings a lot of youth and vitality to the team.
"Although he's only, 18 he plays and makes decisions like a 25 or 26-year-old and he makes good decisions under pressure."
Lobzhanidze, who will turn 19 after the pool stages are complete, has played for RC Armazi Tbilisi in the Georgian first division since he was 11. He made his Test debut for the Lelos against Germany in the European Nations Cup and was also part of Georgia's World Rugby Under-20-winning side earlier this summer.
"Just a few years ago I would have not imagined that I would play for the Georgian national team, let alone at a World Cup. It's a dream come true, it's a fantastic feeling," Lobzhanidze said.
"I was at school [for the 2011 World Cup]. I was very young so I almost don't remember the last World Cup.
"Of course they [my family] will be looking for me and watching on television. I come from a big family, with a big extended family, which is very typical for Georgia. I have a twin sister, two older sisters and one brother. I have six nieces and nephews. My twin sister and I are the youngest."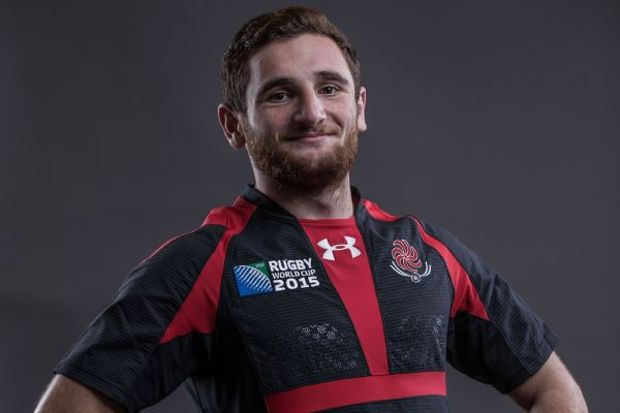 Vasil Lobzhanidze of Georgia
© Barrington Coombs - World Rugby/Getty Images
And the youngster, who revealed his childhood rugby hero was England's World Cup winner Jonny Wilkinson, insists he is just going to enjoy the experience and look to learn as much as possible.
"Honestly I don't have any particular or specific players that I am looking forward to playing against. I am just looking forward to playing and doing my best in every game, whoever the opponents may be," Lobzhanidze said.
"From everyone I have learned something, all the boys who play in this team are immensely experienced in comparison to myself, so I am able to learn something from all of them."
Canada's Taylor Paris had a chance to become the first 18 year old to play at a World Cup in 2011, but was not picked during the competition. Jonah Lomu remains the youngest player to play in a World Cup final, aged 20 years and 43 days against South Africa in 1995, while Springbok Francois Steyn became the youngest player to win a World Cup against England in 2007, aged 20 years and 159 days.
© ESPN Staff