Nick Phipps: Training equal to match form in Wallabies selection race
Sam Bruce
September 29, 2015
Improvement needed to beat England - Cheika
BIRMINGHAM, England --- Wallabies scrum-half Nick Phipps enjoyed his best game in recent times in the 65-3 hammering of Uruguay at the Rugby World Cup, his performance keeping the pressure on Will Genia ahead of the blockbuster with England on Saturday.
Playing behind a forward pack led by boom rookie Sean McMahon and the more experienced Ben McCalman, Phipps' service was greatly improved from the wayward efforts in Bledisloe I and the one-off Test against the United States in Chicago. Whether it's enough to depose Genia for the Twickenham showdown remains to be seen but Phipps has at least given Wallabies coach Michael Cheika something to ponder ahead of this week's selection meeting.
"It was good; I can say I had some good chat from some of the boys outside me," Phipps told ESPN of his performance on Sunday. "They were sort of sparking up and the forwards were quite dominant in the way they wanted the ball as well.
© Stringer/Getty Images/2015 Getty Images
"So that made my job quite easy and I guess I enjoyed having a good run out there. But at the end of the day I've just got to keep putting in good performances and then it's up to smarter people than me to make decisions up top."
Genia was solid enough in the Wallabies' opening win over Fiji but he didn't deliver the kind of standout performance that will would have made an automatic selection against England. In fact, work on the training paddock seems to be just as important to Cheika.
"This has sort of been the first year where training has been so important to selections," Phipps told ESPN. "You can go out there and make a few mistakes [at training] normally, but here every time you go into a drill or a training session you're vying off for a spot.
"So I think it's just about training hard and training well and showing them that you're mentally there and have got the capacity to do it out on the field. So it was good that I was able to put a bit out there on the field today."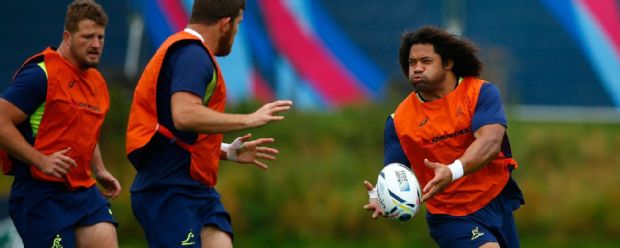 England's loss to Wales has made Saturday's clash a must-win for the tournament hosts.
Last year's annual November fixture saw England dominate the Wallabies at scrum-time, and spoil the Australian ball at the breakdown, but the Wallabies are now a greatly improved scrummaging outfit that has added a powerful rolling maul to its own arsenal - one which has already yielded four tries at this World Cup.
Phipps said the forwards had flourished under the coaching of Pumas great Mario Ledesma and would meet England head-on at the key set-piece battles.
"They'll play typical northern hemisphere style of footy, they'll be physical and their set-piece will be strong as well," he said of England. "So our boys have got a big job, but I'm quite confident that they've done a lot work and are still working hard with Mario, and have sort of changed the psyche around the way they approach the set-piece. So I'm confident that our boys will be able to do it on the day."
© ESPN Sports Media Ltd.