All Blacks sevens include Augustin Pulu in 14-man squad
ESPN Staff
November 26, 2015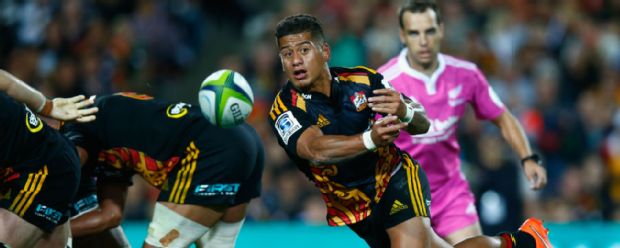 Augustine Pulu
© Phil Walter/Getty Images
New Zealand sevens have named their squad for the Dubai and Cape Town sevens tournaments. All Blacks Sevens coach Gordon Teitjens named 14 players for the first two tournaments of the 2015/16 Sevens World Series, including Chiefs half-back Augustine Pulu.
Pulu is one of two debutants will get a chance to crack the side after impressing Tietjens with how quickly he has adapted to sevens.
"He's a fine rugby player. He's come on in leaps and bounds in the time he has been with us. The improvement has been immense this week. This is a great opportunity for him to put his hand up to have a crack at other teams this season.
"He's got very good vision. He's quick off the mark. He's quick to spot a gap. He's going to keep teams honest and he's very strong and physical."
The 14-man squad will be reduced to 12 for the tournament, with Teitjens naming the extra players as an incentive to work harder to push for the final places. He will follow the same format all season.
"It's for all those players to put pressure on others at training. Knowing you're not in the starting 12 you can get complacent and lose focus. I want pressure put on every individual in all the teams we name throughout the year.
"For training it's great to have two teams of sevens up against each which again creates more competition."
New Zealand squad: Dylan Collier, Scott Curry, Sam Dickson, DJ Forbes, Tim Mikkelson, Declan O'Donnell, Lewis Ormand, Augustine Pulu, Teddy Stanaway, Sherwin Stowers, Isaac Te Tamaki, Beaudein Waaka, Regan Ware, Joe Webber.
© ESPN Staff