Reds captain Simmons has backed 'Tongan Thor' to impress in trial
ESPN Staff
February 4, 2016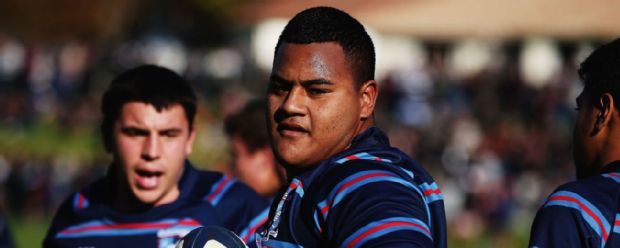 © Hannah Peters/Getty Images
Queensland Reds stand-in captain Rob Simmons has backed Reds recruit Taniela "Tongan Thor" Tupou to have a big impact for the side in their opening trial match against the Crusaders.
Named on the bench for the opening trial game, Tupou will be given his first chance to impress in the Reds jersey and Simmons believes the match will give the young star further opportunity to build on what he's learnt in the pre-season.
"He's dangerous that's for sure," Simmons said. "He's got very fit over the pre-season as well, so I suppose game fitness is another issue so these trials will be very helpful for him. But he's improved a lot in the scrum and we saw through the NRC what he can do around the field."
Known for his tackle-busting carries and crunching tackles, Tupou has been working hard on improving his scrummaging and the stand-in captain believes the 19-year-old has come a long way throughout the pre-season.
"Yeah, I've been behind him and against him and he's very powerful," Simmons said. "Scrummaging is one of those things, especially for the front row, the older you get the better you get, it's all about experience. You can't just write it down in a text book and expect to know it.
"He's definitely still learning, but he's come a long way in the past two months anyway."
Asked if he'd taken on Tongan Thor at training the Wallabies back-rower said he was definitely going to be hard for oppositions to stop.
"I haven't come up against him one-on-one yet," Simmons said. "But we did a little bodies-in-front but the speed he has we knew we'd have to put more than our body into it, it was just meant to be two-hand touch but I had to put my whole body into it and it rocked me.
"So I think he's going to be hard to stop once he gets going."
© ESPN Sports Media Ltd.