South African Super Rugby preview: who will top Africa 1?
Sam Bruce
February 17, 2016
Super Rugby: Who will have the best … ?
The South African Group has been split into two conferences in the new era of Super Rugby. Here we preview Africa 1, which features the Bulls, Cheetahs, Stormers and Sunwolves.
BULLS 
Best finish: Champions (07, 09, 10) Last year: Ninth; third in South Africa. The Bulls were one of the great disappointments of 2015, with coach Frans Ludeke shown the door after a 7-9 season. The Pretoria franchise were in the playoffs mix until they dropped all four games on tour in New Zealand and Australia, and then rounded out the season with a fifth straight loss to the Cheetahs at home. Springboks star Handre Pollard did an admirable job in marshalling the sidefrom fly-half while Jesse Kriel emerged from the Under 20s program to play a key role in South Africa's Rugby World Cup campaign. But the Bulls struggled up front, both at the breakdown and set-piece, meaning the backs were often attempting to work from well behind the gain-line.
Super Rugby Africa Two: Jaguares could go all the way
%]
Squad: (from) Trevor Nyakane, Pierre Schoeman, Lizo Gqoboka, Dean Greyling, Nqoba Mxoli, Morne Mellett, Marcel van der Merwe, Werner Kruger, Dayan van der Westhuizen, Entienne Swanepoel, Adriaan Strauss, Bandise Maku, Corniel Els, Jaco Visagie, Callie Visagie, RG Snyman, Jason Jenkins, Jannes Kirsten Marvin Orie, Nicholaas Janse van Rensburg, Le Roux Roets, Irne Herbst, Grant Hattingh, Lappies Labuschagne, Roelof Smit, Ruan Steenkamp, Deon Stegmann, Freddy Ngoza, Nick de Jager, Arno Botha, Clyde Davids, Hanro Liebenberg, Rudy Paige, Ivan van Zyl, Piet van Zyl, Tian Schoeman, Francois Brummer, Joshua Stander, Handre Pollard, Burger Odendaal, Jan Serfontein, Daniel Kriel, JT Jackson, Dries Swanepoel, JJ Engelbrecht, Jesse Kriel, Jamba Ulengo, Jade Stigling, Kafense Mahlo, Travis Ismaiel, Luther Obi, Bjorn Basson, Duncan Matthews, Divan Rossouw, Warrick Gelant.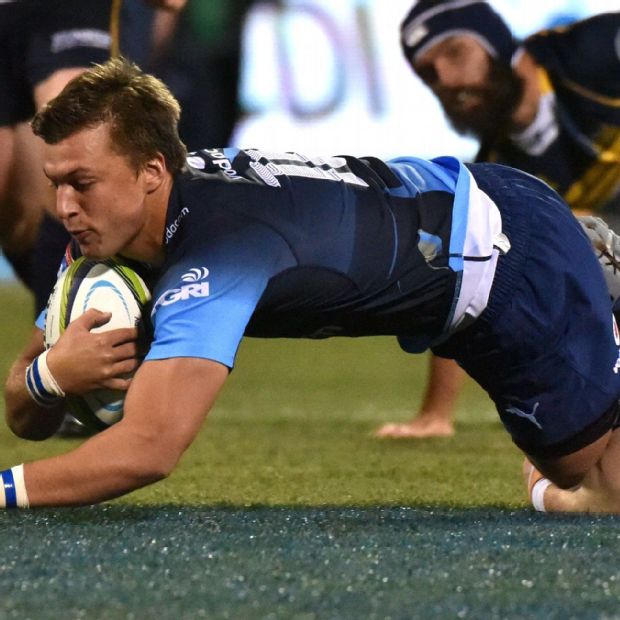 © Mark Graham/Getty Images
Fixtures: Stormers (A), Rebels (H), BYE, Sharks (H), Sunwolves (A), Cheetahs (H), Kings (A), Reds (H), BYE, Force (A), Brumbies (A), Waratahs (A), Stormers (H), Lions (H), Jaguares (A), Sunwolves (H), Cheetahs (A)
This year: Nollis Marais has stepped into the position vacated by Ludeke and the former Vodacom Cup coach already has a number of issues to confront, including injuries to Pollard, Bandise Maku and Deon Stegmann. Pollard is easily the biggest loss, with the star No.10 out for the entire Super Rugby season due to a serious knee injury. The Bulls will face the easier Australian conference, avoiding New Zealand sides until at least the opening week of the playoffs, but they have drawn the Waratahs and Brumbies as their away fixtures. With Pollard sidelined, Jesse Kriel will likely shoulder much of the attacking workload out wide; but the big question will come up front where Marais must assemble a pack that no longer has the likes of Victor Matfield, Pierre Spies or Flip van der Merwe to look to for experience.
Greg Growden says: While the Bulls have an easy draw, they should again struggle. They have lost the core of their pack, most of their lineout prowess as Victor Matfield and Flip van der Merwe have gone, while numerous promising youngsters have also headed overseas. Adriaan Strauss is a good player, but he needs support.
Tip: Second in conference
Odds: $23 (Ubet)
Super Rugby Australia: Brumbies look like the team to beat
%]
CHEETAHS
Best finish: Quarter-finalists (2013)
Last year: 12th; Fifth in South Africa.
The Cheetahs had one major problem in 2015: defence. The boys from Bloemfontein shipped a whopping 531 points, eventually leading to coach Naka Drotske's resignation late in the season. They were more than capable of scoring points themselves but poor tackling saw them finish with just five wins. They were without star full-back Willie le Roux for much the year due to injury and Springboks resting requirements while veteran flanker Heinrick Brussow was cruelled by a broken arm. It was a season to forget in the Free State.
Fixtures: Jaguares (H), Stormers (H), Sunwolves (A), Lions (A), Brumbies (H), Bulls (A), BYE, Sunwolves (H), Rebels (A), Reds (A), Waratahs (A), Kings (H), BYE, Stormers (A), Force (H), Sharks (A), Bulls (H)
Squad: (from) Justin Basson, Ryno Benjamin, Clayton Blommetjies, Tienie Burger, Willie Britz, Johan Coetzee, Luan de Bruin, Lood de Jager, Maphutha Dolo, Jacques du Toit, Joseph Dweba, Sias Ebersohn, Joubert Engelbrecht, Reinhardt Erwee, Elandre Huggett, Reniel Hugo, Niell Jordaan, Armandt Koster, Tertius Kruger, Nico Lee, Hilton Lobberts, Niel Marias, Steven Meiring, Tian Meyer, Danie Mienie, Zee Mkhabela, Oupa Mohoje, Uzair Cassiem, Teunis Nieuwoudt, Gerhard Olivier, Sergeal Petersen, Boom Prinsloo, Niel Rautenbach, Raymond Rhule, Willem Serfontein, Paul Schoeman, William Small-Smith, JP Smith, BG Uys, Francois Uys, Michael van der Spuy, Maks van Dyk, Torsten van Jaarsveld, Ruan van Rensburg, Coenie van Wyk, Francois Venter, Henco Venter, Shaun Venter, Dennis Visser, Carl Wegner and Fred Zeilinga.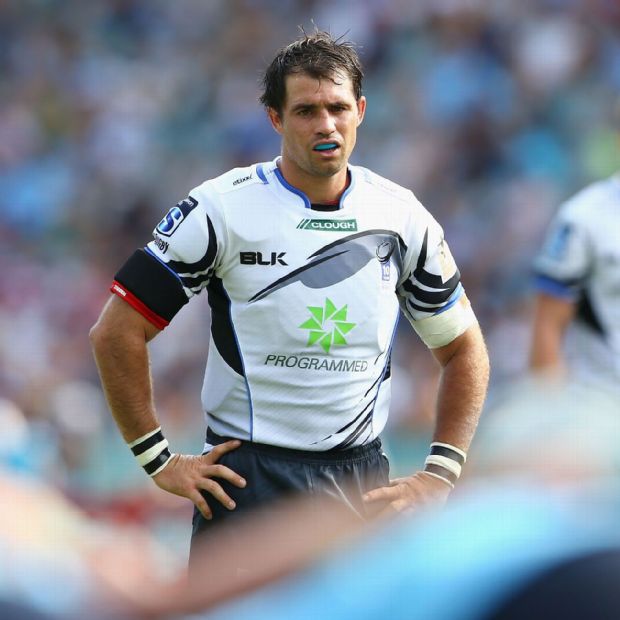 © Mark Kolbe/Getty Images
This year: It looks like being another tough slog for the Cheetahs despite the fact they find themselves in the weaker of the two African conferences. Willie le Roux and Coenie Oosthuizen have both picked up their kitbags and headed for Durban while Heinrich Brussow has also moved on. Coach Franco Smith does have some Springboks quality at his disposal in the form of rising lock Lood de Jager and flanker Oupa Mohoje; but it won't be enough to see them in the race for a finals spot. The return of Sias Ebersohn will likely generate mixed feelings among fans after the playmaker struggled in an offshore year stint at Western Force.
Greg Growden says: Their new coach Franco Smith is saying that he wants his team to play 'beautiful and winning rugby.' Good luck. They have lost some of their most important players, including Willie Le Roux and Heinrich Brussow, and don't boast a stunning squad. If Smith is to achieve, he must improve their defence and re-generate their attack. Not easy.
Super Rugby New Zealand: Blues might go OK but tough as ever to predict
%]
Tip: Third in Africa 1
Odds: $201 (Ubet)
STORMERS
Best finish: Runners-up (2010)
Last year: Quarter-finalists; First in South Africa.
The Stormers finished atop the South African pile but were promptly thrashed at home by the Brumbies in the playoffs. That result only further infuriated the Crusaders after the conference system granted the Cape Town outfit a spot in the post-season despite finishing seventh overall. Allister Coetzee's side finally found some improvement in attack but they still managed just the two four-try bonus points. That wasn't due to a lack of trying from Springboks centre Damian de Allende, the powerfully-built midfielder creating havoc for opposition defences; albeit while struggling on defence himself.
Fixtures: Kings (H), Cheetahs (A), Sharks (H), Brumbies (H), Jaguares (A), BYE, Sunwolves (H), Lions (A), Reds (H), Waratahs (H), BYE, Sunwolves (A), Bulls (A),Cheetahs (H), Rebels (A), Force (A), Kings (H)
Squad: Jacques Vermeulen, JP Smith, JD Schickerling, David Ribbans, Sikhumbuzo Notshe, Pieter-Steph du Toit, Jan de Klerk, Scarra Ntubeni, Bongi Mbonambi, Michael Willemse, Vincent Koch, Alistair Vermaak, Oliver Kebble, Frans Malherbe, Jean Kleyn, Jurie van Vuuren, Eben Etzebeth. Rynhardt Elstadt, Schalk Burger, Siya Kolisi, Nizaam Carr, Daniel du Plessis, Jean-Luc du Plessis, Leolin Zas, Jano Vermaak, Seabelo Senatla, Justin Phillips, Cornal Hendricks, Louis Schreuder, Nic Groom, Godlen Masimla, Kurt Coleman, Robert du Preez, Juan de Jongh, Damian de Allende, Huw Jones, Johnny Kotze, Cheslin Kolbe, Kobus van Wyk, Jaco Taute, EW Viljoen, Dillyn Leyds.
© Ashley Vlotman/Getty Images
This season: The Stormers have endured a trying off-season with new coach Eddie Jones lasting just two weeks before he jetted off to take charge of England. Former assistant Robbie Fleck has assumed the clipboard on an interim basis and has already signalled his desire for the Stormers to play with more adventure by taking "calculated risks". But he will have to do it without the franchise's most dominant player in recent times, Duane Vermeulen; the Springboks No.8 having packed up his bundle and headed for Toulon. Former Skipper Jean de Villiers has also departed, with the captain's armband to be shared by Frans Malherbe and Juan de Jongh. The Cape Town outfit certainly look well-placed to top Africa 1, though the loss of De Allende, Cornal Hendriks and Jaco Taute could make the early weeks of the competition a little tough.
Greg Growden says: Eddie Jones was there one second and gone the next, but under the helm of Robbie Fleck, they still look the pick of the South African teams. They are strong in all areas, with the only real area of concern being at No 10, following Demetri Catrakilis's departure to Montpellier. A good leader is also required as Jean de Villiers is one of many to head overseas. Although never winning the title, they constantly hover. It will be exactly the same this year.
Tip: First in Africa 1
Odds: $12 (Ubet)
SUNWOLVES
Best finish: N/A
Last year: N/A
Squad: Ryuhei Arita, Timothy Bond, Derek Carpenter, Andrew Durutalo, Ziun Gu, Shohei Hirano, Atsushi Hiwasa, Shota Horie, Yoshiya Hosoda, Keita Inagaki, Daisuke Inoue, Shinnosuke Kakinaga, Takeshi Kizu, Yamamoto Koki, Faatiga Lemalu, Tomas Leonardi, Amanaki Lotoahea, Shinya Makabe, Paea Mifi Poseti, Masataka Mikami, Liaki Moli, Tsuyoshi Murata, Hitoshi Ono, Tusi Pisi, Eddie Quirk, Yusataka Sasakura, John Stewart, Yu Tamura, Harumichi Tatekawa, Riaan Viljoen, Akihito Yamada, Ryohei Yamanaka, Hajime Yamashita, Yuki Yatomi.
Fixtures: Lions (H), BYE, Cheetahs (H), Rebels (H), Bulls (H), Kings (A), Stormers (A), Cheetahs (A), Jaguares (H), BYE, Force (H), Stormers (H), Reds (A), Brumbies (A), Waratahs (H), Bulls (A), Sharks (A)
© Toru Yamanaka/Getty Imahes
This year: Japan finally has a Super Rugby franchise, but the Sunwolves' first foray into the world's premier provincial rugby competition is likely to be a fruitless one. The Tokyo-based side - they will also play two home games in Singapore - only announced Mark Hammett as coach just before Christmas while the playing squad remains a work in progress; the former Hurricanes coach certainly has his work cut out in building a competitive side in less than two months' training. The Sunwolves do boast some Super Rugby experience in the likes of Shota Horie, Eddie Quirk and Rian Viljoen while Samoa fly-half Tusi Pisi is a proven performer at Test level. Still, you can expect the Sunwolves to be in a wooden-spoon battle with fellow newcomers, Southern Kings.
Greg Growden says: Japan's World Cup win over South Africa will never be forgotten. And Mark Hammett will be hoping this will cause them to be feared in their introductory year of Super Rugby. They do have the advantage of being in an easy conference. But you shouldn't expect too much in their first year. It is a bit of a ramshackle squad.
Odds: $251 (Ubet)
Tip: Last in Africa 1
© ESPN Sports Media Ltd.