Thom Evans set for dramatic return to rugby following spinal injury
ESPN Staff
November 26, 2015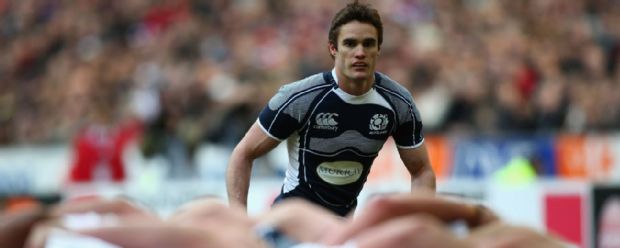 © Michael Steele/Getty Images
Former Scotland wing Thom Evans is set to make an incredible return to rugby just five years after suffering a serious spinal injury.
Evans was only saved from paralysis in February 2010 by the quick thinking of SRU doctor James Robson and his medical staff, having come within millimetres of death following a clash with Wales fullback Lee Byrne.
The injury forced the winger into retirement but having appeared in a recent charity match, and worked alongside sprint coach Margot Wells, the 30-year-old is ready to step back onto the pitch at next week's Dubai 7s tournament.
"I'm honoured to be able to get the opportunity to play, and this tournament is to see how I hold up being back on the pitch," Evans told the Daily Mail. "Only after the tournament will I have an idea about my rugby future.
"I played in the Rugby Aid match (at Twickenham Stoop in September) and my body felt strong and that is what got me interested in the sevens competition.
"I have no ambitions or anything other than just to play in this tournament in Dubai and see how my body holds up.
"The idea just now is to play sevens. The body feels really good. I will see how it is. I have been working really hard with Margot and strengthening everything up."
Wells -- who has worked extensively with Mike Brown and was credited with helping return the England fullback to action swiftly following concussion earlier this year -- believes Evans is in the perfect position to deal with his impending comeback.
"The surgeon was amazed at his recovery but it is not as if there was any physical damage to his body," she said.
"It is now as strong as it has ever been, he is as fast as he has ever been, as powerful as he has ever been and there is no area of weakness at all. I would actually say he is better now than when he got hurt.
"There is a danger every time someone goes out on the pitch, whether they have a problem or not."
Evans will turn out for the invitational UR7s side -- captained by former England sevens star Mat Turner -- in the International Open tournament in Dubai, between Dec. 3 and 5.
© ESPN Staff