Rugby World Cup: Gloucester's Kingsholm passes Japan vs Georgia test
Rob Bartlett
September 6, 2015
© Julian Herbert/Getty Images
There are certain things to be said for home comforts at a Rugby World Cup. England's triumphant camp in 2003 was built on them with familiar surroundings replicated to make players feel at ease.
But when you play a long way from home, any advantage is surely going to be a good one. That was the verdict, anyway, from both Japan and Georgia after their thrilling Test international in Gloucester on Saturday.
Each nation will play two of their pool matches at the same Kingsholm Stadium and while neither expect to match England's feat, they both understand the importance of the memory of success.
"For the players, it has been fantastic," Japan head coach Eddie Jones, Australia's defeated leader in 2003, said after his side's 13-10 victory.
"Just to get used to the ground -- it's a beautiful surface. I've come here before with Saracens and the surface has never been like that. The players are lucky."
Despite watching his side suffer a third successive warm-up defeat, Lelos coach Milton Haig shared the sentiments. "We planned the whole process -- we both play two games here, so it was a no-brainer. When I spoke to Eddie about getting a game, it made sense to play at Kingsholm.
© Julian Herbert/Getty Images
"It's important to play here and understand the surroundings. The ground is a little bit softer than what we've been training on since arriving in the UK [and] we're really pleased with it.
"Georgians are passionate about their rugby and I know Gloucester is the same -- there's a good fit there, that's for sure."
For Gloucester, the match represented the successful return of international Test rugby to Kingsholm. Not since 1991, when England last hosted the Rugby World Cup, had a game of such status graced its turf.
Two weeks before the start of rugby's biggest show and the city passed with flying colours.
The long approach to the stadium is tastefully decorated with official Rugby World Cup signs to keep the sponsors happy -- but local matches were still being played on the fields around the corner an hour before kick-off. Rugby comes first here.
Festivities were in abundance; fans congregated and laughed together outside pubs that proudly displayed the red and white of Gloucester Rugby. It's not just the teams that are on show over the next two months; those who welcome them are sticking their chests out proudly and beating the World Cup drum, too.
The joyous Kingsholm crowd, while not at full capacity, embraced two differing cultures in ways only sport -- particularly a major international event -- tends to yield.
"The Shed was a bit empty! The pubs must've been full," Jones joked in his post-match press conference. He knows it should only get louder as Japan's red and white hooped jerseys did more than enough to sway the locals.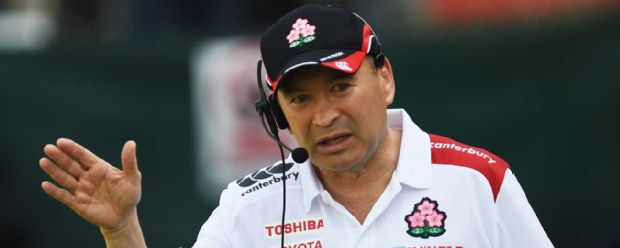 Eddie Jones
© (Photo by Atsushi Tomura/Getty Images)
Facing Scotland -- and the USA -- will no doubt give the home crowd further reason to back the Brave Blossoms, too. That extra support could make the difference between victory and defeat; making the quarterfinals or flying home.
For Georgia, they know they have two winnable games at Kingsholm against Tonga and Argentina. Haig branded their World Cup opener with Tonga as "crucial" in their aim to finish third in Pool C and a slight home advantage could work wonders.
"You don't have to be a rocket scientist to understand that Tonga are pretty much in the same position as us. It's going to be a critical game," he said.
There is already a sense of comfort for both nations in Gloucester. Japan's players danced in victory, Georgia remained humble in defeat. Their emotions contrasted, but how they dealt with them seemed strangely familiar.
It appears both have found their home from home. Hopefully, much like England in 2003, success isn't so far away for them either.
ESPN is proud to announce an exclusive 1-hour special - Cheika's Wallabies: Hope of a Nation - premiering on ESPN Weds Sept 9 at 9pm AEST (11pm NZ). ESPNscrum's leading rugby expert Greg Growden goes one-on-on with the Wallabies coach in this exclusive special that gives a rare insight into the intriguing personality of Australia's head coach.
© Rob Bartlett