JPR Williams - the rampaging scourge of the English
Huw Richards
January 15, 2016
If anybody could ever have been called the Hammer of the English it was John Williams. While his 11 wins over England has been overtaken as the all-time record by the All Black trio of Keven Mealamu (13), Richie McCaw and Tony Woodcock (12 each), they all also lost at least once.
But JPR, as he was known once another John Williams -- the flying winger JJ -- joined the Welsh team in 1973, had a 100 percent record against the old enemy. Wales did lose twice between his first appearance in the fixture in 1969 and his last in 1981. These, by no great coincidence, were the two that he missed -- the contentious Twickenham clashes of 1974 and 1980.
There was a certain irony in this. JPR was qualified to play for England, since his mother came from Rochdale. And in socio-economic terms he had more in common with the archetypes of English rugby than those of Wales.
He was, it is true, the grandson of a coal miner. But his father was a doctor who did so well that the family car was a Rolls-Royce. He was not alone among the Welsh greats of the 1970s in attending Millfield School, which famously had the highest fees in the country -- but where Gareth Edwards went on a scholarship, JPR's family could afford to pay.
JPR, who followed in his father's professional footsteps to become an orthopaedic surgeon, was gifted enough as an all-round sportsman to be a junior Wimbledon champion, but those talents were wedded to a ferocious physicality. One element in this, he has readily admitted, was a background which served 'as an extra incentive to prove to my mates that I was tough, and one of them.'
He certainly succeeded in that quest. Two of the most memorable moments in a spectacular career were the shoulder to shoulder tackle on powerful French wing Jean-Francois Gourdon which preserved Wales' 1976 Grand Slam and the occasion on an injury-hit tour of Australia two years later when he was capped as an emergency back rower.
Alastair Hignell, one of the best of the English opposite numbers who played against him, has recalled the new dimension he brought to fullback play. "He launched himself at you in a way that was new for fullbacks and left the attacker much less time to consider his options."
© Adrian Murrell/Allsport
More anecdotally there was the occasion when volunteers were needed to go into the front row during a training session on tour. The first back to volunteer shot complaining out of the scrum when an opposing prop mischievously nibbled at his ear. JPR filled his place and, when the prop tried the same trick, flattened his tormentor.
All of the Welsh greats of the 1970s were fortunate in their timing, but none more than JPR, who might have been designed specifically to take advantage of the liberating rule changes of the 1960s. There were attacking fullbacks before him, like the legendary New Zealander Bob Scott and that wonderfully named Scot Ken Scotland, but it was JPR who was the first to take full advantage of the shift in balance from dedicated-last-line-of-defence towards towards key extra element in attack enabled by limitations on kicking to touch.
Only one Welsh fullback -- Vivian Jenkins in 1933 -- had scored a try in 87 years of international rugby before JPR made his debut. He went over six times in 54 matches for Wales, then a record, which included 44 in the Five Nations. Five of them were against England, including four at Twickenham.
The irony is that he did not particularly like Twickenham, and not for the reasons of atmosphere which have afflicted Welsh players since 1910. "The grass was so long there. It was like running through a field and especially so on the damp days," he complained. England could be forgiven for wondering what he might he accomplished on a ground where he felt comfortable.
His try in 1970 is less remembered than the heroics of replacement scrum-half Chico Hopkins but was a vital contribution to Wales's comeback from 13-3 down while his score to break determined English resistance in a tight contest in 1972 could have been stopped, reckoned former Wales captain Clem Thomas 'by nothing short of the West Stand collapsing on him.'
The peak, or trough if you are English, came four years later -- and 40 years ago this week -- on Jan. 17, 1976. England, as often in the days when this was routinely their opening Five Nations fixture, were a newish team but had had an encouraging run-out in a comprehensive defeat of the touring Wallabies -- not then remotely the force they have been since the 1980s.
Aggressive Headingley scrum-half Mike Lampkowski had made a rousing, try-scoring debut against Australia. And England made an encouraging start against Wales, dominating the early stages with Harlequins centre David Cooke making a good impression and fullback Hignell coming close to scoring on his Five Nations debut.
More than 30 years later the memory of the tackle which foiled him remained vivid and painful. "JPR used all of his weight and exploded into things. Instead of scoring, I hurt my nose !"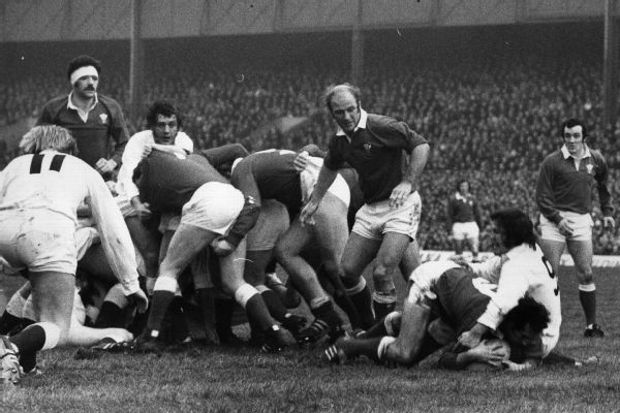 © Central Press/Getty Images
It was ultimately a slightly frustrating contest on both sides. England's early promise gradually ebbed away -- Hignell recalling that in defending "we couldn't quite decide whether we were drifting or closing down or blitzing and we got stuck in between" while Lampkowski's limitations of technique, if not of courage or commitment, were exposed in juxtaposition to Gareth Edwards.
As England prop Mike Burton recalled rather dryly "he was tough and brave, but couldn't pass, which is a bit of a problem for a scrum-half."
But Wales were also well short of their best. Coach John Dawes and skipper Mervyn Davies were both critical post-match, but exempted one player -- JPR. Bleeding from a head wound in a way that would not be permitted nowadays and with socks round his ankles, he rampaged to spectacular effect, scoring two tries in what journalist Geoffrey Nicholson reckoned 'a phenomenal performance'.
The second try, with England still in touch at 9-15 after Hignell had landed his third penalty, was the killer as he staged a stunning scissors with outside-half Phil Bennett before charging across, only narrowly avoiding a post which, it was generally reckoned, would probably have come off worse from the collision.
Wales's 21-9 win was, and still remains, their most conclusive in more than 100 years of visiting Twickenham. JPR's four tries as a visitor have been matched only by 1930s Scottish schemer Wilson Shaw and contemporary All Black try machine Julian Savea, but neither can equal his 4-0 record at the stadium.
But if that was the peak, he was not quite finished with England. The following year was the one time England got anywhere close to Wales in Cardiff during the 1970s, finally going down by 14-9. And nobody who has read this far should need telling who scored the decisive try after England had led at half-time, a mere 40 minutes away from a Triple Crown which instead became part of Wales's unprecedented run of four in a row from 1975 to 1978.
We may not quite see his like again. And for that, 40 years on from his greatest triumph, England can feel distinctly thankful.
© ESPN Sports Media Ltd.