Uruguay ready for once-in-a-lifetime England World Cup Test
Rob Bartlett
October 7, 2015
Fiji could become a force
STADIUM MK, Milton Keynes -- The severity of the Rugby World Cup draw meant it was exceedingly likely Uruguay's clash with Fiji would be a dead rubber. While that may be the case in regards to the final outcome of Pool A, aptly branded the "Pool of Death", Wednesday's enthralling and captivating clash in front of a packed house will live long in the memory of Uruguayan rugby history.
It was a night of firsts for Pablo Lemoine's side. Up against the bruising Pacific Islanders and, at times, horrendous weather, Los Teros not only scored their first try of the tournament -- but also their first World Cup try in 12 years. Head coach Lemoine was the last Uruguayan to cross the whitewash at a World Cup, when he touched down in the 111-13 defeat to England in 2003, but the wait finally ended when Carlos Arboleya squeezed through the narrowest of gaps to stun the Flying Fijians in the 17th minute.
© Adrian Dennis/AFP/Getty Images
"It felt really great - you could see by the celebrations that it was a relief. Everybody came together to make a big huddle," Arboleya told ESPN of his try. "It was very special. I just did the best part, but my team-mates did the rest with some nice play. We moved the ball around and I ended up scoring."
Fiji and Romania win in contrasting style (Australia only)
%]
Arboleya's effort drew the loudest cheer of the night from the stadium-record 30,048 crowd -- but the celebrations didn't end there. Much like waiting for a bus in England, another try was right around the corner for the side in blue. Agustin Ormaechea, sent to the sin-bin in only the third minute of the match, finished a dramatic breakaway just shy of the hour mark to follow in the footsteps of his father, Diego, who scored a World Cup try against Spain in 1999.
"It's amazing," Ormaechea said. "Scoring a try is always good and especially in the World Cup. To have that in common with my dad is great too. It's a little detail but it's good.
"The crowd was amazing. We don't get to play many games like that unless it's at a World Cup, so it was good. We've had a long trip to be here so I'm very thankful for the support -- we felt it on the field.
"Scoring a try is just one detail, but it was tough to lose -- especially by such a big score. The sensation wasn't great immediately after the game so, after a couple of days, we'll maybe appreciate more what we did and take some better conclusions to learn from."
Ormaechea's joy turned sour when he was shown a second yellow card following a feisty confrontation with Fijian prop Campese Ma'afu, earning the scrum-half the first red card of the tournament and a likely suspension from Uruguay's Pool A finale against England in Manchester on Saturday.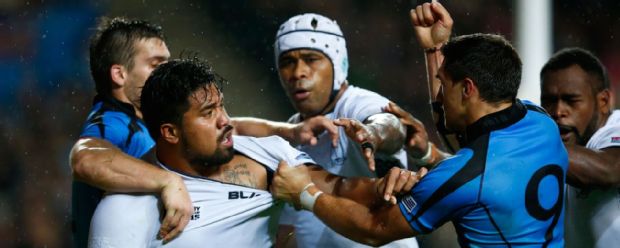 © Shaun Botterill/Getty Images
"I'm sorry for that, I feel really bad inside so I have mixed feelings about the night," he said. "It was no more than a misunderstanding [between Ma'afu and Ormaechea]. It was pretty silly, I was running towards the posts when they scored. He touched me, I touched him. It was a silly thing and hopefully they can review that and make a better conclusion. We will see what will happen."
Much of the spotlight in Manchester will be on England, and how the hosts respond to being dumped out of their own World Cup, the Uruguay squad will just be savouring the moment.
"It's a strange situation to play England in England -- a once-in-a-lifetime situation for us," Arboleya said. "We'll enjoy it a lot. But we didn't expect England to be out of the World Cup. They have nothing to lose now, so I think we'll see a good game from both sides."
© ESPN Sports Media Ltd.