Throughout the World Cup, ESPN will bring you our rating of the hottest Premier League transfer targets in the tournament. Updated daily, we'll track the players that are seeing their stock rise as well as who is plummeting down the pecking order.
1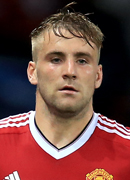 Luke Shaw

Age

18

Position

Defender

Club

Southampton

Nation

England
2
Adam Lallana

Age

26

Position

Midfielder

Club

Southampton

Nation

England
Might have been looking on a touch enviously as Luke Shaw completed his move to Manchester United, only to then be following him up the road to the north-west very soon after for a medical at Liverpool. A £25m fee has been agreed, apparently, so it's now just the formalities before his unveiling next week.
3
Divock Origi

Age

19

Position

Forward

Club

Lille

Nation

Belgium
Having been linked with Liverpool in the hours leading up to Belgium's final group game against South Korea, he then goes and contributes to the winning goal by Jan Vertonghen. Add in Luis Suarez's ban and suddenly things are all falling into place for the 19-year-old.
4
New entry
Mathieu Debuchy

Age

28

Position

Defender

Club

Newcastle

Nation

France
Having seen Bacary Sagna depart for Manchester City, Arsene Wenger has a need a right-back and seems ready to fill it with Newcastle's Mathieu Debuchy. An enquiry has been made and an £8m bid could follow.
5
Alexis Sanchez

Age

25

Position

Midfielder

Club

Barcelona

Nation

Chile
The race for Alexis (or is it Sanchez?) is heating up. With Arsenal having entered the fray alongside Manchester United, it now emerges - via Phil Thompson - that many believe a move to Liverpool is a done deal.
6
Loic Remy

Age

27

Position

Forward

Club

Newcastle

Nation

France
He's back! With the Balotelli race seemingly run (see below), the rumours around Remy to Arsenal have picked up speed again. Why did we ever doubt this was going to happen?
7
Xherdan Shaqiri

Age

22

Position

Midfielder

Club

Bayern

Nation

Switzerland
Confusion over where exactly Liverpool are negotiating his transfer, with some reports saying they are in Switzerland and others saying his agent/brother is in England. That would be embarrassing if both are true. 'We thought we were coming to you!'
8
Mario Balotelli

Age

23

Position

Forward

Club

AC Milan

Nation

Italy
Fast on the heels of Arsene Wenger saying Arsenal's interest in Balotelli was 'pure invention', AC Milan CEO Adriano Galliani tells his club's website that Mario is not for sale. Like a holiday romance that everyone denies once they're back home, this one might fizzle out very quickly indeed now.
9
Mario Mandzukic

Age

28

Position

Forward

Club

Bayern

Nation

Croatia
The resurgence in Loic Remy interest at Arsenal might not necessarily be bad news for Mandzukic, especially with the Balotelli links flaming out. Swings and roundabouts for the Croatia forward who is definitely leaving Bayern Munich this summer.
10
Thomas Vermaelen

Age

28

Position

Defender

Club

Arsenal

Nation

Belgium
He sat out Belgium's final group game against South Korea with a minor injury. Still no news on whether Manchester United's interest is going to go anywhere, though.
Previously on Most Wanted:
Marcos Rojo - Juventus have joined Liverpool, Tottenham and Barcelona in tracking the Argentina defender, who scored the winner for Argentina against Nigeria on Wednesday.
Romelu Lukaku - Has failed to make much impact at all in the World Cup so far. Still hotly pursued by Tottenham, regardless.
Sami Khedira - Manchester United, Liverpool and Chelsea all monitoring his expected departure from Real Madrid.
Victor Moses - Another loan spell away from Chelsea seems certain, with West Brom, Southampton, Newcastle, Swansea and Everton all interested.
Diego Costa - Still Chelsea-bound, even if it seems to be taking an age to complete the deal.
Wilfried Bony - A back-up option for Mauricio Pochettino if Tottenham fail to sign Romelu Lukaku. A cool £19m price tag comes with it.
Edinson Cavani - On Manchester United's radar.
Dejan Lovren - Liverpool are said to be up against Barcelona for his services, having been knocked out of the World Cup on Monday.